Residential Building
Put your cursor upon the text in the picture for descriptions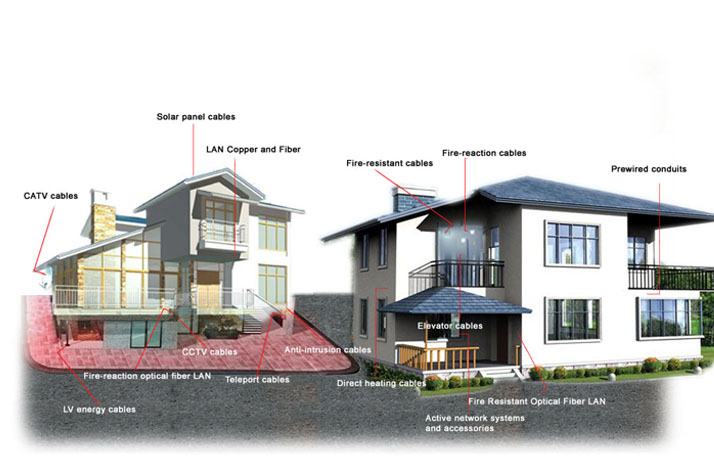 CATV cables:Copper core Coaxial cable transmits analog television or electric signals to downstream
subscribers (TV).
LAN Copper and Fiber:Copper and Fiber based solution form Megabits and Gigabit Network. They are
covering a small geographic area, such as home, office, or group of buildings
Solar panel cables:Stranded outdoor UV, direct burial wire Rubber cables or single core PVC cables for
connection. They are sunlight resistant, approved for direct burial, and good for high temperatures.
Fire-resistant cables:Low-voltage cables for use in fire alarms, smoke evacuation, lighting, sprinklers. It can
maintain normal operation of emergency power supply and various warning systems which continue to operate
during a fire within certain times of period.
Fire-reaction cables:Cables uses to prevent fire affection and limited smoke emits when exposed to high
sources of heat
LV energy cables: Low-voltage energy cables designed for lighting, telecom, air conditioning, heating and
control panels.
CCTV cables:Power limited circuit, remote control, signaling, security systems, communications, intercom/P.A.
systems, sound/audio, and nurse call.
Teleport cables:This cable is used for communication and telephone systems, distribution cabling and direct
buried
Anti-intrusion cables: Copper based solution form Megabits and Gigabit Network. They are covering a small
geographic area, such as home, office, or group of buildings