PENDANT CABLE
Applications:
PENDANT CABLE can be used in dry, damp or wet environments and for outdoor use as power and control cable.
For its special flexibility, it also can be used for non-continuous installation or fixation. The usage extends to
hoists, cranes, stacking systems, conveyor systems etc.. Cables with two self-supporting steel rope is used to
carry tensile force in working. The broken pulling force reaches 1200N and the height 150m. For the adoption of
Nitrile elastomer compound sheath, the product has an excellent properties and safety service.
Standards:
VDE 0250
Construction: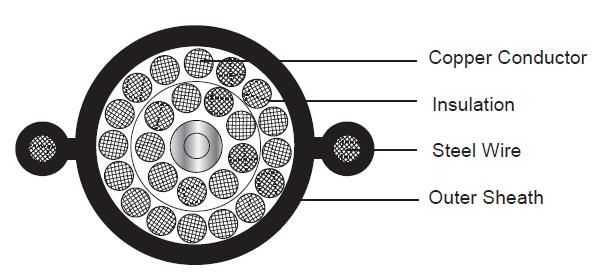 Conductor: Flexible stranded oxygen-free copper wire according to IEC60228 class 5.
Insulation: Soft Nitrile material.
Color Code: Black cores with White number and Green/Yellow.
Wrapping Tape: Non-woven fabric wrapping to release impact.
Steel Wire: Two self-supporting steel rope positioned opposite each other.
Outer Sheath: Nitrile elastomer compound.
Sheath Color: Black. Other color available as per request.
Dimensions and Weight:
| | | | |
| --- | --- | --- | --- |
| Number of Cores×Nominal Cross Section | Minimum Overall Diameter | Maximum Overall Diameter | Approx. Weight |
| No. ×mm² | mm | mm | kg/km |
| 25x1.5 | 21.0 | 23.0 | 375 |
Physical and Electrical Properties:
Max. Conductor DC Resistance @ 20℃: 13.3 Ω/km
Rated Voltage: 0.6/1KV
Temperature Range: -15℃ to + 80℃
Bending Radius: 7.5 X OD (Static); 12 X OD (Dynamic)