Industrial Cables
H05Z-U/H07Z-U/H07Z-R
Application and Description

H05Z-U/H07Z-U/H07Z-R cables are designed for the internal wiring of switchboards and distributor boards with an alternating nominal voltage up to 1000 Volts or a direct voltage up to 750 volts. Generally install in pipes or ducts and internal wiring of appliances with maximum operating temperature of 90º C, and generally in areas (such as public and government buildings) where smoke and toxic fumes may cause a threat to life and equipment. H05Z-U/H07Z-U/H07Z-R cables produce no corrosive gasses when burnt which is particularly important where electronic
equipment is installed.
Standard and Approval
HD 22.9 S2, VDE-0282 Part-9, BS 7211, IEC 60754-2, EN 50267, VDE 0482-267, CE Low Voltage
Directive 73/23/EEC and 93/68/EEC, ROHS compliant
Cable Construction
Solid bare copper single wire to IEC 60228 Cl-1(H05Z-U / H07Z-U)
Bare copper strands to IEC 60228 Cl-2 (H07Z-R)
Cross-link polyolefin EI5 core insulation
LSOH - low smoke, zero halogen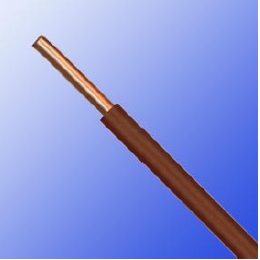 Technical Characteristics
Working voltage: 300/500v (H05Z-U), 450/750v (H07Z-U / H07Z-R)
Test voltage: 2500 volts
Flexing bending radius: 15 x Ø
Static bending radius: 10 x Ø
Flexing temperature: +5º C to +90º C
Short circuit temperature: +250º C
Flame retardant: IEC 60332.1
Insulation resistance: 10 MΩ x km

Cable Parameter
AWG
No. of Cores x Nominal Cross Sectional Area # x mm²
Nominal Thickness of Insulation mm
Nominal Overall Diameter
mm
Nominal Copper Weight kg/Km
Nominal Weight kg/Km
H05Z-U
20
1 x 0.5
0.6
2.0
4.8
8
18
1 x 0.75
0.6
2.2
7.2
12
17
1 x 1
0.6
2.3
9.6
14
H07Z-U
16
1 x 1.5
0.7
2.8
14.4
20
14
1 x 2.5
0.8
3.3
24
30
12
1 x 4
0.8
3.8
38
45
10
1 x 6
0.8
4.3
58
65
8
1 x 10
1.0
5.5
96
105
H07Z-R
16(7/24)
1 x 1.5
0.7
3.0
14.4
21
14(7/22)
1 x 2.5
0.8
3.6
24
33
12(7/20)
1 x 4
0.8
4.1
39
49
10(7/18)
1 x 6
0.8
4.7
58
71
8(7/16)
1 x 10
1
6.0
96
114
6(7/14)
1 x 16
1
6.8
154
172
4(7/12)
1 x 25
1.2
8.4
240
265
2(7/10)
1 x 35
1.2
9.3
336
360
1(19/13)
1 x 50
1.4
10.9
480
487
2/0(19/11)
1 x 70
1.4
12.6
672
683
3/0(19/10)
1 x 95
1.6
14.7
912
946
4/0(37/12)
1 x 120
1.6
16.0
1152
1174
300MCM(37/11)
1 x 150
1.8
17.9
1440
1448
350MCM(37/10)
1 x 185
2.0
20.0
1776
1820
500MCM(61/11)
1 x 240
2.2
22.7
2304
2371