Industrial Cables
H05VVC4V5-K
Application and Description
H05VVC4V5-K cables are suitable for dry, damp and wet locations but not in the open-air. They are used as screened termination and connection cable in the control, measuring and signal technology. The copper braiding
optimises protection against external interferences, like electromagnetic fields and stray frequencies.
Suitable as a signal and impulse cable for control and inspection of industrial plants, machinery and working
processes.
Standard and Approval
HD 21.13 S1, VDE-0281 Part-13, CEI 20-20/13, CEI 20-35 (EN60332-1) , CEI 20-52, UL 2464
Cable Construction
Fine bare copper strands
Strands to VDE-0295 Class-5, IEC 60228 Class-5
PVC insulation T12 to DIN VDE 0281 part 1
Green-yellow grounding (3 conductors and above)
Cores to VDE-0293 colors
PVC inner sheath TM2 to DIN VDE 0281 part 1
Tinned copper braided shielding, covering approx. 85%
PVC outer jacket TM5 to DIN VDE 0281 part 1
Technical Characteristics
Working voltage: 300/500v
Test voltage: 2000volts
Flexing bending radius: 10 x Ø
Static bending radius: 5 x Ø
Flexing temperature: -5º C to +70º C
Static temperature: -40º C to +70º C
Flame retardant: IEC 60332.1
Insulation resistance: 20 MΩ x km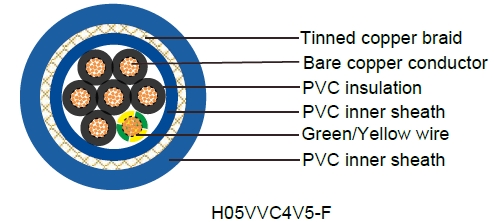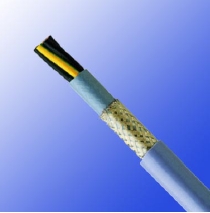 Cable Parameter
| | | | | | | | |
| --- | --- | --- | --- | --- | --- | --- | --- |
| AWG | No. of Cores x Nominal Cross Sectional Area # x mm² | Nominal Thickness of Insulation mm | Nominal Thickness of Inner Sheath mm | Nominal Thickness of outer Sheath mm | Nominal Overall Diameter mm | Nominal Copper Weight kg/Km | Nominal Weight kg/Km |
| 20(16/32) | 2 x 0.50 | 0.6 | 0.7 | 0.9 | 7.7 | 35 | 105 |
| 18(24/32) | 2 x 0.75 | 0.6 | 0.7 | 0.9 | 8 | 39 | 115 |
| 17(32/32) | 2 x 1.0 | 0.6 | 0.7 | 0.9 | 8.2 | 44 | 125 |
| 16(30/30) | 2 x 1.50 | 0.7 | 0.7 | 1.0 | 9.3 | 58 | 160 |
| 14(30/50) | 2 x 2.50 | 0.8 | 0.7 | 1.1 | 10.7 | 82 | 215 |
| 20(16/32) | 3 x 0.50 | 0.6 | 0.7 | 0.9 | 8 | 40 | 115 |
| 18(24/32) | 3 x 0.75 | 0.6 | 0.7 | 0.9 | 8.3 | 47 | 125 |
| 17(32/32) | 3 x 1.0 | 0.6 | 0.7 | 1.0 | 8.8 | 54 | 145 |
| 16(30/30) | 3 x 1.50 | 0.7 | 0.7 | 1.0 | 9.7 | 73 | 185 |
| 14(30/50) | 3 x 2.50 | 0.8 | 0.7 | 1.1 | 11.3 | 106 | 250 |
| 20(16/32) | 4 x 0.50 | 0.6 | 0.7 | 0.9 | 8.5 | 44 | 125 |
| 18(24/32) | 4 x 0.75 | 0.6 | 0.7 | 1.0 | 9.1 | 58 | 155 |
| 17(32/32) | 4 x 1.0 | 0.6 | 0.7 | 1.0 | 9.4 | 68 | 170 |
| 16(30/30) | 4 x 1.50 | 0.7 | 0.7 | 1.1 | 10.7 | 93 | 220 |
| 14(30/50) | 4 x 2.50 | 0.8 | 0.8 | 1.2 | 12.6 | 135 | 305 |
| 20(16/32) | 5 x 0.50 | 0.6 | 0.7 | 1.0 | 9.3 | 55 | 155 |
| 18(24/32) | 5 x 0.75 | 0.6 | 0.7 | 1.1 | 9.7 | 66 | 175 |
| 17(32/32) | 5 x 1.0 | 0.6 | 0.7 | 1.1 | 10.3 | 78 | 200 |
| 16(30/30) | 5 x 1.50 | 0.7 | 0.8 | 1.2 | 11.8 | 106 | 265 |
| 14(30/50) | 5 x 2.50 | 0.8 | 0.8 | 1.3 | 13.9 | 181 | 385 |
| 20(16/32) | 7 x 0.50 | 0.6 | 0.7 | 1.1 | 10.8 | 69 | 205 |
| 18(24/32) | 7 x 0.75 | 0.6 | 0.7 | 1.2 | 11.5 | 84 | 250 |
| 17(32/32) | 7 x 1.0 | 0.6 | 0.8 | 1.2 | 12.2 | 107 | 275 |
| 16(30/30) | 7 x 1.50 | 0.7 | 0.8 | 1.3 | 14.1 | 162 | 395 |
| 14(30/50) | 7 x 2.50 | 0.8 | 0.8 | 1.5 | 16.5 | 238 | 525 |
| 20(16/32) | 12 x 0.50 | 0.6 | 0.8 | 1.3 | 13.3 | 98 | 285 |
| 18(24/32) | 12 x 0.75 | 0.6 | 0.8 | 1.3 | 13.9 | 125 | 330 |
| 17(32/32) | 12 x 1.0 | 0.6 | 0.8 | 1.4 | 14.7 | 176 | 400 |
| 16(30/30) | 12 x 1.50 | 0.7 | 0.8 | 1.5 | 16.7 | 243 | 525 |
| 14(30/50) | 12 x 2.50 | 0.8 | 0.8 | 1.7 | 19.9 | 367 | 745 |
| 20(16/32) | 18 x 0.50 | 0.6 | 0.9 | 1.3 | 18.6 | 147 | 385 |
| 18(24/32) | 18 x 0.75 | 0.6 | 0.8 | 1.5 | 19.9 | 200 | 475 |
| 17(32/32) | 18 x 1.0 | 0.6 | 0.8 | 1.5 | 20.8 | 243 | 525 |
| 16(30/30) | 18 x 1.50 | 0.7 | 0.8 | 1.7 | 24.1 | 338 | 720 |
| 14(30/50) | 18 x 2.50 | 0.8 | 0.9 | 2.0 | 28.5 | 555 | 1075 |
| 20(16/32) | 25 x 0.50 | 0.6 | 0.8 | 1.6 | 22.1 | 199 | 505 |
| 18(24/32) | 25 x 0.75 | 0.6 | 0.9 | 1.7 | 23.7 | 273 | 625 |
| 17(32/32) | 25 x 1.0 | 0.6 | 0.9 | 1.7 | 24.7 | 351 | 723 |
| 16(30/30) | 25 x 1.50 | 0.7 | 0.9 | 2.0 | 28.6 | 494 | 990 |
| 14(30/50) | 25 x 2.50 | 0.8 | 1.0 | 2.3 | 34.5 | 792 | 1440 |
| 20(16/32) | 36 x 0.50 | 0.6 | 0.9 | 1.7 | 24.7 | 317 | 620 |
| 18(24/32) | 36 x 0.75 | 0.6 | 0.9 | 1.8 | 26.2 | 358 | 889 |
| 17(32/32) | 36 x 1.0 | 0.6 | 0.9 | 1.9 | 27.6 | 438 | 910 |
| 16(30/30) | 36 x 1.50 | 0.7 | 1.0 | 2.2 | 32.5 | 662 | 1305 |
| 14(30/50) | 36 x 2.50 | 0.8 | 1.0 | 2.4 | 38.5 | 1028 | 1850 |
| 20(16/32) | 48 x 0.50 | 0.6 | 0.9 | 1.9 | 28.3 | 353 | 845 |
| 18(24/32) | 48 x 0.75 | 0.6 | 1.0 | 2.1 | 30.4 | 490 | 1060 |
| 17(32/32) | 48 x 1.0 | 0.6 | 1.0 | 2.1 | 31.9 | 604 | 1210 |
| 16(30/30) | 48 x 1.50 | 0.7 | 1.1 | 2.4 | 37 | 855 | 1665 |
| 14(30/50) | 48 x 2.50 | 0.8 | 1.1 | 2.4 | 43.7 | 1389 | 2390 |
| 20(16/32) | 60 x 0.50 | 0.6 | 1.2 | 2.1 | 31.1 | 432 | 1045 |
| 18(24/32) | 60 x 0.75 | 0.6 | 1.0 | 2.3 | 32.9 | 576 | 1265 |
| 17(32/32) | 60 x 1.0 | 0.6 | 1.0 | 2.3 | 34.7 | 720 | 1455 |
| 16(30/30) | 60 x 1.50 | 0.7 | 1.1 | 2.4 | 39.9 | 1050 | 1990 |
| 14(30/50) | 60 x 2.50 | 0.8 | 1.2 | 2.4 | 47.2 | 1706 | 2870 |