Industrial Cables
H05V2-U/H07V2-U
Application and Description
H05V2-U/H07V2-U cables are for fixed protected installation inside appliances and in, or on, lighting fittings.
Suitable for installation in surface mounted or embedded conduits, only for signalling and control circuits.
Maximum conductor temperature in normal use 90°C. Not to be used in contact with object higher then 85°C.
Not suitable for fixed distribution system.
Standard and Approval
HD 21.7 S2, VDE-0281 Part-7, CEI20-20/7,
CE Low Voltage Directive 73/23/EEC and 93/68/EEC, ROHS compliant
Cable Construction
Solid bare copper single wire
Solid to DIN VDE 0281-3, HD 21.3 S3 and IEC 60227-3
Special PVC TI3 ore insulation
Cores to VDE-0293 colors on chart
H05V-U (20, 18 & 17 AWG)
H07V-U (16 AWG and Larger)
Technical Characteristics
Working voltage: 300/500v (H05V-U)
Working voltage: 450/750v (H07V-U)
Test voltage: 2000V(H05V-U)/2500V (H07V-U)
Flexing bending radius: 15 x Ø
Static bending radius: 15 x Ø
Flexing temperature: -5º C to +70º C
Static temperature: -30º C to +80º C
Short circuit temperature: +160º C
Flame retardant: IEC 60332.1
Insulation resistance: 10 MΩ x km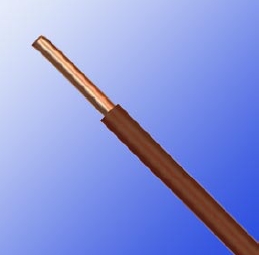 Cable Parameter
AWG

No. of Cores x Nominal Cross Sectional Area # x mm²

Nominal Thickness of Insulation mm

Nominal Overall Diameter
mm

Nominal Copper Weight kg/Km

Nominal Weight kg/Km

20

1 x 0.5

0.6

2.1

4.8

9

18

1 x 0.75

0.6

2.2

7.2

11

17

1 x 1

0.6

2.4

9.6

14

16

1 x 1.5

0.7

2.9

14.4

21

14

1 x 2.5

0.8

3.5

24.0

33

12

1 x 4

0.8

3.9

38.0

49

10

1 x 6

0.8

4.5

58.0

69

8

1 x 10

1.0

5.7

96.0

115