Industrial Cables
H05V-R/H07V-R
Application and Description

H05V-R/H07V-R cables are preferably for installation indoors, in cable ducts and in industrial plants or switching
stations, under ground installation. Can be used in switchboards and distributor boards or where a thicker
strand of multi-wire is required. Found in electronic and electrical equipment and switchgear cabinets
designed for export to a European country and for MRO replacement of European made equipment wire.
Standard and Approval
HD 21.3 S3, BS 6004, VDE-0281 Part-3, CEI 20-20/3 , CEI 20-35 (EN60332-1)
CEI 20-52, CE Low Voltage Directive 73/23/EEC and 93/68/EEC, ROHS compliant
Cable Construction
Bare copper solid/strands conductor
Strands to VDE-0295 Class-2, IEC 60228 Cl-2
Special PVC TI1 core insulation
Cores to VDE-0293 colors on chart
Technical Characteristics
Working voltage: 300/500 volts(H05V-R), 450/750 volts(H07V-R)
Test voltage: 2000 volts(H05V-R), 2500 volts(H07V-R)
Flexing bending radius: 15 x Ø
Static bending radius: 15 x Ø
Flexing temperature: -5º C to +70º C
Static temperature: -30º C to +80º C
Short circuit temperature: +160º C
Flame retardant: IEC 60332.1
Insulation resistance: 10 MΩ x km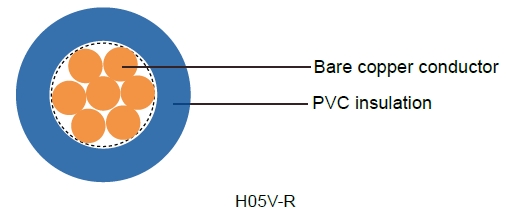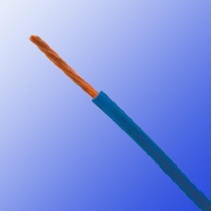 Cable Parameter
AWG
No. of Cores x Nominal Cross Sectional Area # x mm²
Nominal Thickness of Insulation mm
Nominal Overall Diameter
mm
Nominal Copper Weight kg/Km
Nominal Weight kg/Km
H05V-R
20(7/29)
1 x 0.5
0.6
2.2
4.8
9
18(7/27)
1 x 0.75
0.6
2.4
7.2
12
17(7/26)
1 x 1
0.6
2.6
9.6
15
H07V-R
16(7/24)
1 x 1.5
0.7
3.0
14.4
23
14(7/22)
1 x 2.5
0.8
3.6
24
35
12(7/20)
1 x 4
0.8
4.2
39
51
10(7/18)
1 x 6
0.8
4.7
58
71
8(7/16)
1 x 10
1.0
6.1
96
120
6(7/14)
1 x 16
1.0
7.2
154
170
4(7/12)
1 x 25
1.2
8.4
240
260
2(7/10)
1 x 35
1.2
9.5
336
350
1(19/13)
1 x 50
1.4
11.3
480
480
2/0(19/11)
1 x 70
1,4
12.6
672
680
3/0(19/10)
1 x 95
1,6
14.7
912
930
4/0(37/12)
1 x 120
1,6
16.2
1152
1160
300MCM(37/11)
1 x 150
1,8
18.1
1440
1430
350MCM(37/10)
1 x 185
2,0
20.2
1776
1780
500MCM(61/11)
1 x 240
2,2
22.9
2304
2360
1 x 300
2.4
24.5
2940
1 x 400
2.6
27.5
3740