Industrial Cables
H05G-U/H07G-U/R
Application and Description

H05G-U/H07G-U/R cables are recommended for the internal wiring of switchboards and distributor boards as well as in operating parts in or on lights. The higher temperature range allows for connections to heaters with an alternating nominal voltage of 1000V. or direct nominal voltage of 750V. These cables are all allowed for
laying in tubes in and under plaster.
Standard and Approval
HD 22.7 S2, VDE-0282 Part-7, CEI 20-19/7, CEI 20-35(EN60332-1), CE Low Voltage Directive
73/23/EEC and 93/68/EEC, ROHS compliant
Cable Construction
Solid bare copper / strands
Strands to VDE-0295 Class-1/2, IEC 60228 Class-1/2
Rubber compound type EI3 (EVA) to DIN VDE 0282 part 7 insulation
Cores to VDE-0293 colors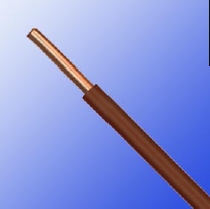 Technical Characteristics
Working voltage: 300/500v (H05G-U), 450/750v (H07G-U/R)
Test voltage: 2000volts (H05G-U), 2500 volts (H07G-U/R)
Flexing bending radius: 7 x Ø
Static bending radius: 7 x Ø
Flexing temperature: -25º C to +110º C
Static temperature: -40º C to +110º C
Short circuit Temperature: +160º C
Flame retardant: IEC 60332.1
Insulation resistance: 10 MΩ x km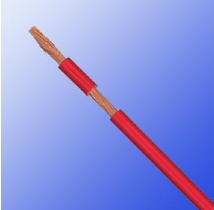 Cable Parameter
AWG
No. of Cores x Nominal Cross Sectional Area # x mm²
Nominal Thickness of Insulation
mm
Nominal
Overall iameter mm
Nominal Copper Weight kg/km
Nominal Weight kg/km
H05G-U
20
1×0.5
0.6
2.1
4.8
9
18
1×0.75
0.6
2.3
7.2
12
17
1×1
0.6
2.5
9.6
15
H07G-U
16
1×1.5
0.8
3.1
14.4
21
14
1×2.5
0.9
3.6
24
32
12
1×4
1
4.3
38
49
H07G-R
10(7/18)
1×6
1
5.2
58
70
8(7/16)
1×10
1.2
6.5
96
116
6(7/14)
1×16
1.2
7.5
154
173
4(7/12)
1×25
1.4
9.2
240
268
2(7/10)
1×35
1.4
10.3
336
360
1(7/13)
1×50
1.6
12
480
487