Industrial Cables
(H)03Z1Z1-F/(H)05Z1Z1-F
Application and Description
(H)03Z1Z1-F/(H)05Z1Z1-F cables may be used when halogen-free, low smoke and corrosive gas properties are
required in case of fire. For moderate demands in the house, kitchen and office, for house equipment in damp
rooms (for example: washing machines, dryers and refrigerators). Suitable for cooking and heating equipment,
providing that the cable is not in contact with hot components or heat radiation. Not suitable for use in high
temperature areas (like in lighting equipment), outside buildings, in industrial or agricultural buildings,
connection of electrical power tools.
Standard and Approval
HD21.14 S1, VDE-0281 Part-14, VDE 0482-332-1-2, CEI 20-20/14, CEI 20-35 (EN60332-1), CEI 2037 (EN50267),
EN50363, CE low voltage directive 73/23/EEC & 93/68/EEC, ROHS compliant
Cable Construction
Fine bare copper strands
Strands to DIN VDE 0295 cl. 5, BS 6360 cl. 5, IEC 60228 cl. 5, HD 383
Thermoplastic TI6 core insulation
Color code VDE-0293-308
Green-yellow grounding (3 conductors and above)
Halogen-fee thermoplastic TM7 outer jacket
Black (RAL 9005) or White (RAL 9003)
Technical Characteristics
Working voltage: 300/300 volts(H03Z1Z1-F), 300/500 volts(H05Z1Z1-F)
Test voltage: 2000 volts(H03Z1Z1-F), 2500 volts(H05Z1Z1-F)
Flexing bending radius: 7.5 x Ø
Fixed bending radius: 4.0 x Ø
Flexing Temperature: -5º C to +70º C
Fixed Temperature: -40º C to +70º C
Short circuit temperature: +160º C
Insulation resistance: 20 MΩ x km
Smoke density acc. to EN 50268 / IEC 61034
Corrosiveness of combustion gases acc. to EN 50267-2-2, IEC 60754-2
Flame test: flame-retardant acc. to EN 50265-2-1, IEC 60332.1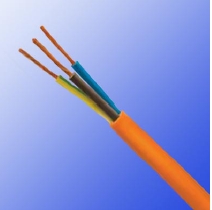 Cable Parameter
AWG
No. of Cores x Nominal Cross Sectional Area # xmm²
Nominal Thickness of Insulation mm
Nominal Thickness of Sheath mm
Nominal Overall Diameter mm
Nominal Copper Weight kg/Km
Nominal Weight kg/Km
(H)03 Z1Z1-F
20(16/32)
2 x 0. 5
0.5
0.6
5.0
9.6
39
20(16/32)
3 x 0. 5
0.5
0.6
5.3
14.4
46
20(16/32)
4 x 0. 5
0.5
0.6
5.8
19.2
56
18(24/32)
2 x 0.75
0.5
0.6
5.4
14.4
47
18(24/32)
3 x 0.75
0.5
0.6
5.7
21.6
55
18(24/32)
4 x 0.75
0.5
0.6
6.3
29.0
69
(H)05 Z1Z1-F
18(24/32)
2 x 0.75
0.6
0.8
6.2
14.4
58
18(24/32)
3 x 0.75
0..7
0.8
6.6
21.6
68
18(24/32)
4 x 0.75
0.8
0.8
7.1
29
81
18(24/32)
5 x 0.75
0.8
0.9
8
36
102
17(32/32)
2 x 1
0.6
0.8
6.6
19
67
17(32/32)
3 x 1
0.8
0.8
6.9
29
81
17(32/32)
4 x 1
0.8
0.9
7.7
38
101
17(32/32)
5 x 1
0.8
0.9
8.4
48
107
16(30/30)
2 x 1.5
0..7
0.8
7.4
29
87
16(30/30)
3 x 1.5
0.8
0.9
8.1
43
109
16(30/30)
4 x 1.5
0.8
1.0
9
58
117
16(30/30)
5 x 1.5
0.8
1.1
10
72
169
14(50/30)
2 x 2.5
0.8
1.0
9.3
48
138
14(50/30)
3 x 2.5
1.0
1.1
10.1
72
172
14(50/30)
4 x 2.5
1.0
1.1
11
96
210
14(50/30)
5 x 2.5
1.0
1.2
12.3
120
260
12(56/28)
2 x 4
0.8
1.1
10.6
76.8
190
12(56/28)
3 x 4
1.0
1.2
11.5
115.2
242
12(56/28)
4 x 4
1.0
1.4
12.5
153.6
298
12(56/28)
5 x 4
1.0
1.4
14.1
192
371