High Temperature Cables
TML Cable - Type A for Process Water, Type B Drinking Water
Product application :
As connection cable for submersible electric motors (pumps) for the permanent use in process and drinking
water up to a temperature of 70°C. In addition DIN VDE 0298 T.300 has to be respected.
Product characteristic:
Construction:
Fine stranded bare copper conductor
EPR outer sheath
EPR insulation
Technical:
Characteristics at 20oC:
Rated voltage : 600/1000V
Maximum admissible operating voltage:
in 1 ph and 3 ph systems : 720 / 1200V
in D C systems : 1800 V
conductor resistance to DIN / VDE 0295
Test voltage 50Hz, 5 min : 2500 V
Temperature range:
Maximum admissible conductor
Temperature in operation 90°C
Short circuit temperature 250°C
Fixed : -40oC up to + 80°C
In motion : -25oC up to + 80°C
Tensile stress : maximum 15 N each sqmm conductor cross sectio
Properties:
Adapted to DIN VDE 0250 and DIN VDE 0282
Excellent insulation properties in water
Very low water absorption
Preservation of the mechanical strength
VI.31/10904/01 - confirming the suitability of TML type B in drinking water.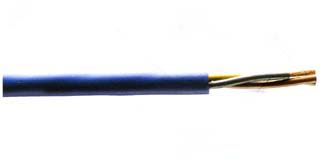 Product specification:
AWG
No. of Cores
Conductor cross section
mm²
O .D. mm
Gross Copper weight
kg/km
Gross
Weight
kg/km
Min - Max.
16
1
1.5
5.8
7.2
14.4
54
14
1
2.5
6.4
8
24
76
12
1
4
7.4
9
38
105
10
1
6
8
11
58
135
8
1
10
9.8
12.5
96
200
6
1
16
11
14.5
154
290
4
1
25
12.5
16.5
240
410
2
1
35
14
18.5
336
560
1
1
50
16.5
21
480
740
2/0
1
70
18.5
23.5
672
1000
3/0
1
95
21
26
912
1300
4/0
1
120
23.5
28.5
1152
1650
300kcmil
1
150
26
31.5
1440
2000
350kcmil
1
185
27.5
34.5
1776
2500
-
1
240
30.5
38
2304
3100
-
1
300
33.5
41.5
2880
3700
16
2
1.5
9
11.5
29
130
14
2
2.5
10.5
13.5
48
190
12
2
4
12
15
77
260
10
2
6
13.5
18.5
115
350
8
2
10
18.5
24
192
550
6
2
16
21
27.5
307
900
4
2
25
25
31.5
480
1300
16
3
1.5
9.6
12.5
43
150
14
3
2.5
11.5
14.5
72
220
12
3
4
13
16
115
340
10
3
6
14.5
20
173
480
8
3
10
20
25.5
288
750
6
3
16
22.5
29.5
461
1100
4
3
25
26.5
34
720
1450
2
3
35
29.5
38
1008
2100
1
3
50
34.5
44
1440
2800
2/0
3
70
39
49.5
2016
3800
3/0
3
95
44
54.6
2736
4600
4/0
3
120
47.5
59
3456
5400
16
4
1.5
10.5
13.5
58
190
14
4
2.5
12.5
15.5
96
280
12
4
4
14.5
18
154
390
10
4
6
16.5
22
230
520
8
4
10
22.5
24.5
384
950
6
4
16
26.5
28.5
614
1400
4
4
25
32
34
960
1950
2
4
35
33
42.5
1344
2700
1
4
50
38
48.5
1920
3600
2/0
4
70
43
54.5
2688
4900
3/0
4
95
50
60.5
3648
6200
4/0
4
120
53
65.5
4608
7200
16
5
1.5
11.5
15
72
230
14
5
2.5
13.5
17
120
340
12
5
4
16
19.5
192
470
10
5
6
18
24.5
288
640
8
5
10
24
30.5
480
1150
6
5
16
27
35.5
768
1700