High Temperature Cables
PFA Insulated Thermocouple Wire and Extension Wire
Product application:
PFA Thermocouple Wire may be used for general use extension wire.
Product characteristic:
Construction:
Solid or stranded thermocouple wire
Flame retardant extruded fluoropolymer PFA insulation
Parallel conductors
Flame retardant extruded fluoropolymer PFA jacket
Tinned Copper
Technical:
Continuous temperature rating:260°C
Minimum Bend Radius: insulation 3 x cable Ø
overall 5 x cable Ø
Limits of Error: Conforms to ASTM E230, IEC 584, and ANSI MC 96.1
Color Code: Conforms to ANSI, IEC, JIS
Properties:
Excellent abrasion, oil, chemical and moisture resistance.
Service temperature of 260°C
Low friction factor when pulled.
Product specification
PFA-Insulated Type J Thermocouple Wire
Iron/Constantan PFA Thermocouple Wire 260°C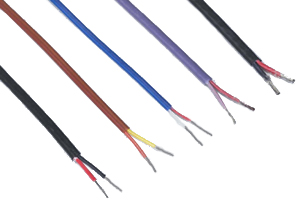 AWG
Nominal Conductor Diameter
mm
Nominal Thickness mm
Gross
Weight
kg/km
Insulation
Jacket
O.D.
14
1.63
0.2
0.25
2.6 x 4.8
51
16
1.29
0.2
0.25
2.2 x 3.9
33
16S*
1.47
0.2
0.25
2.4 x 4.3
36
18
1.02
0.2
0.25
1.9 x 3.4
22
20
0.81
0.2
0.15
1.7 x 2.9
16
20S*
0.97
0.2
0.15
1.8 x 3.1
18
22
0.64
0.2
0.15
1.5 x 2.6
11
24
0.51
0.2
0.15
1.4 x 2.3
8.5
24S*
0.61
0.2
0.15
1.6 x 2.7
9.2
26
0.41
0.2
0.15
1.3 x 2.1
6.5
28
0.32
0.2
0.15
1.2 x 2.0
5.5
30
0.25
0.2
0.15
1.2 x 1.8
4.5
PFA-Insulated Type J Thermocouple Wire - Extension Grade
Iron/Constantan PFA Thermocouple Wire 260°C - Extension Grade
AWG
Nominal Conductor Diameter
mm
Nominal Thickness mm
Gross
Weight
kg/km
Insulation
Jacket
O.D.
14
1.63
0.2
0.25
2.6 x 4.8
51
16
1.29
0.2
0.25
2.2 x 3.9
33
16S*
1.47
0.2
0.25
2.4 x 4.3
36
18
1.02
0.2
0.25
1.9 x 3.4
22
20
0.81
0.2
0.15
1.7 x 2.9
16
20S*
0.97
0.2
0.15
1.8 x 3.1
18
22
0.64
0.2
0.15
1.5 x 2.6
11
24
0.51
0.2
0.15
1.4 x 2.3
8.5
24S*
0.61
0.2
0.15
1.6 x 2.7
9.2
26
0.41
0.2
0.15
1.3 x 2.1
6.5
28
0.32
0.2
0.15
1.2 x 2.0
5.5
30
0.25
0.2
0.15
1.2 x 1.8
4.5
PFA-Insulated Type K Thermocouple Wire
Chromel/Alumel PFA Thermocouple Wire260°C
AWG
Nominal Conductor Diameter
mm
Nominal Thickness mm
Gross
Weight
kg/km
Insulation
Jacket
O.D.
14
1.63
0.2
0.25
2.6 x 4.8
51
16
1.29
0.2
0.25
2.2 x 3.9
33
16S*
1.47
0.2
0.25
2.4 x 4.3
36
18
1.02
0.2
0.25
1.9 x 3.4
22
20
0.81
0.2
0.15
1.7 x 2.9
16
20S*
0.97
0.2
0.15
1.8 x 3.1
18
22
0.64
0.2
0.15
1.5 x 2.6
11
24
0.51
0.2
0.15
1.4 x 2.3
8.5
24S*
0.61
0.2
0.15
1.6 x 2.7
9.2
26
0.41
0.2
0.15
1.3 x 2.1
6.5
28
0.32
0.2
0.15
1.2 x 2.0
5.5
30
0.25
0.2
0.15
1.2 x 1.8
4.5
PFA-Insulated Type K Thermocouple Wire - Extension Grade
Chromel/Alumel PFA Thermocouple Wire 260°C - Extension Grade
AWG
Nominal Conductor Diameter
mm
Nominal Thickness mm
Gross
Weight
kg/km
Insulation
Jacket
O.D.
14
1.63
0.2
0.25
2.6 x 4.8
51
16
1.29
0.2
0.25
2.2 x 3.9
33
16S*
1.47
0.2
0.25
2.4 x 4.3
36
18
1.02
0.2
0.25
1.9 x 3.4
22
20
0.81
0.2
0.15
1.7 x 2.9
16
20S*
0.97
0.2
0.15
1.8 x 3.1
18
22
0.64
0.2
0.15
1.5 x 2.6
11
24
0.51
0.2
0.15
1.4 x 2.3
8.5
24S*
0.61
0.2
0.15
1.6 x 2.7
9.2
26
0.41
0.2
0.15
1.3 x 2.1
6.5
28
0.32
0.2
0.15
1.2 x 2.0
5.5
30
0.25
0.2
0.15
1.2 x 1.8
4.5
PFA-Insulated Type T Thermocouple Wire
Copper/Constantan PFA Thermocouple Wire 260°C
AWG
Nominal Conductor Diameter
mm
Nominal Thickness mm
Gross
Weight
kg/km
Insulation
Jacket
O.D.
14
1.63
0.2
0.25
2.6 x 4.8
51
16
1.29
0.2
0.25
2.2 x 3.9
33
16S*
1.47
0.2
0.25
2.4 x 4.3
36
18
1.02
0.2
0.25
1.9 x 3.4
22
20
0.81
0.2
0.15
1.7 x 2.9
16
20S*
0.97
0.2
0.15
1.8 x 3.1
18
22
0.64
0.2
0.15
1.5 x 2.6
11
24
0.51
0.2
0.15
1.4 x 2.3
8.5
24S*
0.61
0.2
0.15
1.6 x 2.7
9.2
26
0.41
0.2
0.15
1.3 x 2.1
6.5
28
0.32
0.2
0.15
1.2 x 2.0
5.5
30
0.25
0.2
0.15
1.2 x 1.8
4.5
PFA-Insulated Type T Thermocouple Wire - Extension Grade
Copper/Constantan PFA Thermocouple Wire 260°C - Extension Grade
AWG
Nominal Conductor Diameter
mm
Nominal Thickness mm
Gross
Weight
kg/km
Insulation
Jacket
O.D.
14
1.63
0.2
0.25
2.6 x 4.8
51
16
1.29
0.2
0.25
2.2 x 3.9
33
16S*
1.47
0.2
0.25
2.4 x 4.3
36
18
1.02
0.2
0.25
1.9 x 3.4
22
20
0.81
0.2
0.15
1.7 x 2.9
16
20S*
0.97
0.2
0.15
1.8 x 3.1
18
22
0.64
0.2
0.15
1.5 x 2.6
11
24
0.51
0.2
0.15
1.4 x 2.3
8.5
24S*
0.61
0.2
0.15
1.6 x 2.7
9.2
26
0.41
0.2
0.15
1.3 x 2.1
6.5
28
0.32
0.2
0.15
1.2 x 2.0
5.5
30
0.25
0.2
0.15
1.2 x 1.8
4.5
PFA-Insulated Type E Thermocouple Wire
Chromel/Constantan PFA Thermocouple Wire 260°C
AWG

Nominal Conductor Diameter
mm

Nominal Thickness mm

Gross
Weight
kg/km

Insulation

Jacket

O.D.

14

1.63

0.2

0.25

2.6 x 4.8

51

16

1.29

0.2

0.25

2.2 x 3.9

33

16S*

1.47

0.2

0.25

2.4 x 4.3

36

18

1.02

0.2

0.25

1.9 x 3.4

22

20

0.81

0.2

0.15

1.7 x 2.9

16

20S*

0.97

0.2

0.15

1.8 x 3.1

18

22

0.64

0.2

0.15

1.5 x 2.6

11

24

0.51

0.2

0.15

1.4 x 2.3

8.5

24S*

0.61

0.2

0.15

1.6 x 2.7

9.2

26

0.41

0.2

0.15

1.3 x 2.1

6.5

28

0.32

0.2

0.15

1.2 x 2.0

5.5

30

0.25

0.2

0.15

1.2 x 1.8

4.5
PFA-Insulated Type E Thermocouple Wire - Extension Grade
Chromel/Constantan PFA Thermocouple Wire 260°C - Extension Grade
AWG
Nominal Conductor Diameter
mm
Nominal Thickness mm
Gross
Weight
kg/km
Insulation
Jacket
O.D.
14
1.63
0.2
0.25
2.6 x 4.8
51
16
1.29
0.2
0.25
2.2 x 3.9
33
16S*
1.47
0.2
0.25
2.4 x 4.3
36
18
1.02
0.2
0.25
1.9 x 3.4
22
20
0.81
0.2
0.15
1.7 x 2.9
16
20S*
0.97
0.2
0.15
1.8 x 3.1
18
22
0.64
0.2
0.15
1.5 x 2.6
11
24
0.51
0.2
0.15
1.4 x 2.3
8.5
24S*
0.61
0.2
0.15
1.6 x 2.7
9.2
26
0.41
0.2
0.15
1.3 x 2.1
6.5
28
0.32
0.2
0.15
1.2 x 2.0
5.5
30
0.25
0.2
0.15
1.2 x 1.8
4.5
PFA-Insulated Type N Thermocouple Wire
Nicrosil/Nisil PFA Thermocouple Wire 260°C
AWG
Nominal Conductor Diameter
mm
Nominal Thickness mm
Gross
Weight
kg/km
Insulation
Jacket
O.D.
14
1.63
0.2
0.25
2.6 x 4.8
51
16
1.29
0.2
0.25
2.2 x 3.9
33
16S*
1.47
0.2
0.25
2.4 x 4.3
36
18
1.02
0.2
0.25
1.9 x 3.4
22
20
0.81
0.2
0.15
1.7 x 2.9
16
20S*
0.97
0.2
0.15
1.8 x 3.1
18
22
0.64
0.2
0.15
1.5 x 2.6
11
24
0.51
0.2
0.15
1.4 x 2.3
8.5
24S*
0.61
0.2
0.15
1.6 x 2.7
9.2
26
0.41
0.2
0.15
1.3 x 2.1
6.5
28
0.32
0.2
0.15
1.2 x 2.0
5.5
30
0.25
0.2
0.15
1.2 x 1.8
4.5
PFA-Insulated Type N Thermocouple Wire - Extension Grade
Nicrosil/Nisil PFA Thermocouple Wire 260°C - Extension Grade
AWG
Nominal Conductor Diameter
mm
Nominal Thickness mm
Gross
Weight
kg/km
Insulation
Jacket
O.D.
14
1.63
0.2
0.25
2.6 x 4.8
51
16
1.29
0.2
0.25
2.2 x 3.9
33
16S*
1.47
0.2
0.25
2.4 x 4.3
36
18
1.02
0.2
0.25
1.9 x 3.4
22
20
0.81
0.2
0.15
1.7 x 2.9
16
20S*
0.97
0.2
0.15
1.8 x 3.1
18
22
0.64
0.2
0.15
1.5 x 2.6
11
24
0.51
0.2
0.15
1.4 x 2.3
8.5
24S*
0.61
0.2
0.15
1.6 x 2.7
9.2
26
0.41
0.2
0.15
1.3 x 2.1
6.5
28
0.32
0.2
0.15
1.2 x 2.0
5.5
30
0.25
0.2
0.15
1.2 x 1.8
4.5