Cable Glands
Single Compression A2F Type Weatherproof, Waterproof, Flameproof & Increased Safety Cable Glands for
Non Armoured Cables ( Gas Group I, IIA, IIB IIC)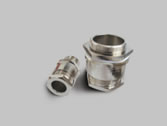 Standard
EN 50014: 1998; EN 50018: 2000; EN 50019: 2000; EN 50281-1-1: 1998
Application
Suitable for all types of unarmoured plastic or rubber sheathed cables in indoor as well as outdoor installations.
It is used in applications where it is essential to provide an IP66/IP67 and explosion proof seal on the outer
sheath of the cable. It is particularly suitable for Zone1 & Zone2 in hazardous area.
Feature
Single compression for cable sheath
Fire and Ingress Protection
II2 GD Exd IIC / Exe II / ExtD A21 / IP66 / IP67 Allowable temperature on the elastomeric sealing ring: 100℃
(ATEX), 120℃(GOST R)
Permitted Zone and Gas Group
Suitable for use in Zone1, Zone2, and Gas Groups, IIA, IIB and IIC.
Certificate
IECEX KOSHA (IECEX KOS 09, 0017X), ATEX NEMKO (03ATEXI460X), KIMM(EX08FLPI96) GOSTR
Material
Brass / Stainless Steel
Plating Option
Brass Finish, Nickel Finish, Chrome Finish or as specified
Accessories
Lock Nut, Sealing Washer, Earth Tag, Shroud, Serrated Washer, Stopping Plug, Reducer, Adaptor
Ordering Code
(Gland Type / Size & Entry Thread Size) e.g. A2F 32a / M32 -18mm
Technical Data
Part No.
Entry Thread Size
Cable Diameter.
Thread Length.
Entry Hole Size
Hexagon Dimensions (H)
Weight
Length
Metric
NPT
"B"
Metric
NPT
Metric
NPT
A2F-16a
M16/M20
1/2"
3 -7.5
15
15
17
22
H24X26
100
31
A2F -16b
M16/M20
1/2"
6.1 -10
15
15
17
22
H24X26
100
31
A2F -20a
M20
1/2"or 3/4
10.1 -13
15
15or16
21
22
H27X29
230
33
A2F-20b
M20
1/2"or 3/4
13.1 -15
15
15or16
21
22
H27X29
230
33
A2F-25a
M25
3/4" or 1"
14-17.5
15
16or18
26
26
H32X34
320
34
A2F-25b
M25
3/4" or 1"
16.1-19.5
15
16or18
26
26
H32X34
320
34
A2F-32a
M32
1"or1-1/4"
18.1 -22
15
18or19
33
34
H39X41.5
370
38
A2F-32b
M32
1"or1-1/4"
21 -26
15
18or19
33
34
H39X41.5
370
38
A2F-40a
M40
1-1/4" or 1-1/2"
24-28
15
19 or21
41
43
H48X51
550
40
A2F-40b
M40
1-1/4" or 1-1/2"
27-32
15
19 or21
41
43
H48X51
550
40
A2F-50a
M50
1-1/2" or2"
32.1 -34
15
21or24
51
50
H58X62
690
42
A2F-50b
M50
1-1/2" or2"
34.1 -40
15
21or24
51
50
H58X62
690
42
A2F-63a
M63
2" or2-1/2"
38-44
15
24or27
64
62
H73X78
1110
46
A2F-63b
M63
2" or2-1/2"
43-50
15
24or27
64
62
H73X78
1110
46
A2F-63c
M63
2" or2-1/2"
49-54
15
24or27
64
62
H73X78
1110
46
A2F-75a
M75
2-1/2"or 3"
52-56
20
27 or30
76
74
H85X90
1500
52
A2F-75b
M75
2-1/2"or 3"
55-60
20
27 or30
76
74
H85X90
1500
52
A2F-75c
M75
2-1/2"or 3"
59-62
20
27 or30
76
74
H85X90
1500
52
A2F-75d
M75
2-1/2"or 3"
62.1-66
20
27 or30
76
74
H85X90
1500
52
A2F-90a
M90
3" or 3-1/2"
68-70
20
30or32
91
90
H103X 113
2000
60
A2F-90b
M90
3" or 3-1/2"
68-76
20
30or32
91
90
H103X 113
2000
60
A2F-100a
M100
3-1/2" or4"
76.1-81
20
32
101
102
H112X 120
2500
69
A2F-100b
M100
3-1/2" or4"
81.1-85
20
32
101
102
H112X 120
2500
69