600/1000V XLPE Insulated, PVC Sheathed, Armoured Power Cables (Single Core)
FGD300 1RVMV-R (CU/XLPE/PVC/AWA/PVC 600/1000V Class 2)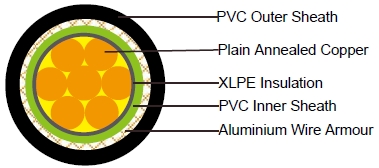 APPLICATION
Airprot cables is mainly used in power stations, mass transit underground passenger systems, airports, petrochemical plants, hotels, hospitals, and high-rise buildings.
STANDARDS
Basic design to BS 5467
FIRE PERFORMANCE
| | |
| --- | --- |
| FlameRetardance (SingleVerticalWireTest)** | EN60332-1-2; IEC60332-1-2; BSEN 60332-1-2; VDE0482-332-1; NBN C30-004 (cat.F1);NF C32-070-2.1(C2); CEI 20-35/1-2; EN 50265-2-1*; DIN VDE 0482-265-2-1* |
| Reduced FirePropagation(Vertically-mountedbundledwires &cabletest)** | EN60332-3-24 (cat.C); IEC60332-3-24;BSEN60332-3-24;VDE0482-332-3;NBN C30-004 (cat.F2);NF C32-070-2.2(C1);CEI 20-22/3-4; EN 50266-2-4*; DIN VDE 0482-266-2-4 |
Note: Asterisk ** denotes that the standard compliance is optional, depending on the oxygen index of the
PVC compound and the cable design.
VOLTAGE RATING
600/1000V
CABLE CONSTRUCTION
Conductor: Plain annealed copper wire, stranded according to IEC 60228 class 2.
Insulation: Extruded cross-linked XLPE compound.
Inner sheath : PVC Compound
Armouring : Aluminium Wire
Outer Sheath : Thermoplastic PVC compound .
COLOUR CODE
Insulation Colour: Natural
Sheath Colour: Black (other colors upon request)
Physical AND THERMAL PROPERTIES
Temperature Range During Operation: -40°C ~ 70°C
Temperature Range during Installation : -5°C ~ 50°C
Minimum Bending Radius: 8 x OD
Electrical PROPERTIES
| | |
| --- | --- |
| DielectricTest: | 3500 Vr.m.s.x 5'(core/core) |
| Insulation Resistance | 500 MΩ x km ( at 20°C ) |
| ShortcircuitTemperature | 250°C ( up to5secs) |
CONSTRUCTION PARAMETERS
Cable
Code
Conductor
Diameter
Under
Armour
Armour Wire Diameter
Nominal
Overall Diameter
Approx. Weight
No. of CoreX CrossSection
No./Nominal
Diameter
of
Strands
mm2
No./mm
mm
mm
mm
kg/km
FFGD3001RVMV-R 1G70
1x70
19/2.14
15.4
1.25
21.5
960
FFGD3001RVMV-R 1G95
1x95
19/2.52
17.3
1.25
23.4
1240
FFGD3001RVMV-R 1G120
1x120
37/2.03
19.1
1.6
25.9
1650
FFGD3001RVMV-R 1G150
1x150
37/2.25
21.1
1.6
27.9
1970
FFGD3001RVMV-R 1G185
1x185
37/2.52
23.2
1.6
30.1
2390
FFGD3001RVMV-R 1G240
1x240
61/2.25
26.2
1.6
33.2
3040
FFGD3001RVMV-R 1G300
1x300
61/2.52
28.8
1.6
35.8
3790
FFGD3001RVMV-R 1G400
1x400
61/2.85
32.7
2.0
40.9
4790
FFGD3001RVMV-R 1G500
1x500
61/3.20
36.2
2.0
44.6
5880
FFGD3001RVMV-R 1G630
1x630
127/2.52
40.6
2.0
49.2
7400
FFGD3001RVMV-R 1G800
1x800
127/2.85
45.7
2.5
55.7
9500
FFGD3001RVMV-R 1G1000
1x1000
127/3.20
50.6
2.5
61.0
11750
Electrical PROPERTIES
Conductor Operating Temperature : 90°C
Ambient Temperature : 30°C
Current-Carrying Capacities (Amp)
Conductor
cross- sectional area
Reference Method1(clipped direct)
Reference
Method11(ona
perforated horizontalcabletrayor
Reference Method 13[freeair])
Reference
Method 12(free air)
Insingle-
wayducts
Laiddirectin
ground
2 cables, single- phase a.c.ord.c.
3 or 4cables, 3-phasea.c.
2 cables, single- phase a.c.ord.c.
3 or 4cables, 3-phasea.c.
3cables 3-phase a.c.trefoiltouching
2 cables, single- phase a.c.ord.c.
3 or 4cables, 3-phasea.c.
2 cables, single- phase a.c.ord.c.
3 or 4cables, 3-phasea.c.
1
2
3
4
5
6
7
8
9
10
mm2
A
A
A
A
A
A
A
A
A
70
303
277
322
293
285
310
280
340
290
95
367
333
389
352
346
365
330
405
345
120
425
383
449
405
402
410
370
460
389
150
488
437
516
462
463
445
405
510
435
185
557
496
587
524
529
485
440
580
490
240
656
579
689
612
625
550
500
670
560
300
755
662
792
700
720
610
550
750
630
400
853
717
899
767
815
640
580
830
700
500
962
791
1016
851
918
690
620
910
770
630
1082
861
1146
935
1027
750
670
1000
840
800
1170
904
1246
987
1119
828
735
1117
931
1000
1261
961
1345
1055
1214
919
811
1254
1038
Voltage Drop (Per Amp Per Meter)
Conductor cross-sectionalarea
2 cablesd.c.
2cables single-phasea.c.
3 or 4 cables three-phase a.c.
2 cables
single
phasea.c.
3 or 4 cables,3-phase a.c.touching
Reference Method 1 & 11 (touching)
Reference Method1, 11 & 12 (intrefoiltouching)
Reference Method 1 &11(Flattouching)
In ducts
In ground
In ducts
In ground
1
2
3
4
5
6
7
8
9
mm2
mV/A/m
mV/A/m
mV/A/m
mV/A/m
mV/A/m
mV/A/m
mV/A/m
mV/A/m
r
x
z
r
x
z
r
x
z
70
0.67
0.68
0.20
0.71
0.59
0.17
0.62
0.6
0.25
0.65
0.80
0.70
0.70
0.61
95
0.49
0.51
0.195
0.55
0.44
0.17
0.47
0.46
0.24
0.52
0.65
0.53
0.56
0.46
120
0.39
0.41
0.190
0.45
0.35
0.165
0.39
0.38
0.24
0.44
0.55
0.43
0.48
0.37
150
0.31
0.33
0.185
0.38
0.29
0.160
0.33
0.31
0.23
0.39
0.50
0.37
0.43
0.32
185
0.25
0.27
0.185
0.33
0.23
0.160
0.28
0.26
0.23
0.34
0.45
0.31
0.39
0.27
240
0.195
0.21
0.180
0.28
0.18
0.155
0.24
0.21
0.22
0.30
0.40
0.26
0.35
0.23
300
0.155
0.17
0.175
0.25
0.145
0.150
0.21
0.17
0.22
0.28
0.37
0.24
0.32
0.21
400
0.115
0.145
0.170
0.22
0.125
0.150
0.195
0.160
0.21
0.27
0.35
0.21
0.30
0.19
500
0.093
0.125
0.170
0.21
0.105
0.145
0.180
0.145
0.20
0.25
0.33
0.20
0.28
0.18
630
0.073
0.105
0.165
0.195
0.092
0.145
0.170
0.135
0.195
0.24
0.30
0.19
0.26
0.17
800
0.056
0.090
0.160
0.190
0.086
0.140
0.165
0.130
0.180
0.23
0.28
0.18
0.24
0.16
1000
0.045
0.092
0.155
0.180
0.080
0.135
0.155
0.125
0.170
0.21
0.26
0.17
0.22
0.15
Note :
r = conductor resistance at operating temperature
x = reactance
z = impedance