2491X to BS 6004 Cables
450/750V PVC Insulated, PVC Sheathed Open-door Button Cables (2 core)
FGD200 07VV-F (CU/PVC/PVC 450/750V Class 5)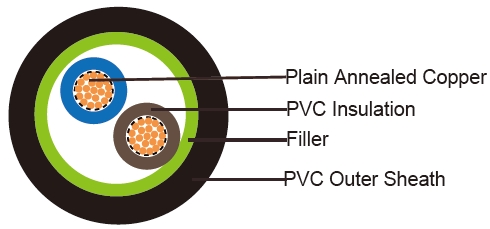 APPLICATION
Airprot cables are mainly used in open-door button, mass transit underground passenger systems, airports,
petrochemical plants, hotels, hospitals, and high-rise buildings. The cables can be offered with the ability to
restrict the propagation of the flame in the event of a fire.
STANDARDS
Basic design to BS 6004, BS6500
FIRE PERFORMANCE
| | |
| --- | --- |
| Flame Retardance (SingleVerticalWireTest)** | EN60332-1-2; IEC60332-1-2; BSEN 60332-1-2; VDE0482-332-1; NBN C30-004 (cat.F1);NF C32-070-2.1(C2); CEI 20-35/1-2; EN 50265-2-1*; DIN VDE 0482-265-2-1* |
| Reduced FirePropagation(Vertically-mountedbundledwires &cabletest)** | EN60332-3-24 (cat.C); IEC60332-3-24;BSEN60332-3-24;VDE0482-332-3;NBNC30-004(cat.F2);NFC32-070-2.2(C1);CEI 20-22/3-4; EN 50266-2-4*; DIN VDE 0482-266-2-4 |
Note:
Asterisk * denotes superseded standard
Asterisk ** denotes that the standard compliance is optional, depending on the oxygen index of the PVC
compound and the cable design.
VOLTAGE RATING
450/750V
CABLE CONSTRUCTION
Conductor: Plain annealed copper wire, stranded according to BS 6360 Class 5
Insulation: PVC insulation type TI1 to BS 7655
Filler, binder (if any): PP, PET
Outer Sheath: PVC sheath type T6 to BS 7655
COLOUR CODE
Insulation Colour as per BS7671
| | | |
| --- | --- | --- |
| | withearth conductor | withoutearth conductor |
| 2Cores | - | Brown,Blue |
| 3Cores | Yellow/Green,Brown,Blue | Brown,Gray,Black |
| 4Cores | Yellow/Green,Brown,Gray,Black | Brown,Gray,Black,Blue |
| 5Cores | Yellow/Green,Brown,Gray,Black,Blue | Brown,Gray,Black,Blue,Black |
| above 5 Cores | Yellow/Green,BlackNumbers | Black Numbers |
Outer sheath: Black or as order
Physical AND THERMAL PROPERTIES
Operating temperature: -15º C to +70º C
Short circuit temperature: +160º C
Minimum bending radius: 4x Overall Diameter
Insulation resistance: 20 MΩxkm
CONSTRUCTION PARAMETERS
Conductor
fGD20007VV-f
No.of
CoreX
Cross
Section
No./
Nomina l
Diameter
of
Strands
Conductor
Diameter
Nominal
Insulation Thickness
Nominal
Sheath Thickness
Nominal
Overall Diameter
Max.DC resistance ofconductor @20°C
Approx. Weight
Noxmm2
No./mm
mm
mm
mm
mm
Ω/km
kg/km
2x1.0
32/0.20
1.32
0.6
0.9
7.0
18.1
66
Electrical PROPERTIES
Conductor Operating Temperature : 90°C
Ambient Temperature : 30°C
Current-Carrying Capacities (Amp)
Conductor cross- sectional area

Reference Method4(enclosed inconduit in thermallyinsulatingwalletc)

Reference
Method3 (enclosed inconduit ona wallorintrunkingetc)

Reference
Method1
(clipped direct)

Reference
Method11
(onaperforated cabletray,
horizontalor
vertical)

Reference
Method 12
(freeair)

Horizontal
flat spaced

Vertical
flat spaced

Trefoil
2
cables, single- phase
a.c.ord.c.

3 or
4cables, 3-phasea.c.

2
cables, single- phase
a.c.ord.c

3 or 4cables, 3-phasea.c.

2cables, single- phase
a.c.or
d.c. flat
andtouching

3 or 4cables, 3-phase
a.c. flat
andtouching or trefoil

2 cables, single- phase
a.c.or
d.c.orflat and touching

3 or 4cables, 3-phase
a.c. flat
andtouching or trefoil

2cables, single- phase
a.c.ord.c.or 3cablesthree phase

2cables, single- phase
a.c.ord.c.or 3
cables three phase

3cables, trefoil
3-phasea.c.

1

2

3

4

5

6

7

8

9

10

11

12

mm2

A

A

A

A

A

A

A

A

A

A

A

1.0

13

-

-

-

15

-

-

-

-

-

-
Voltage Drop (Per Amp Per Meter)
Nominal
Cross
ection
Area
2cables d.c.
2cables,
single-phasea.c.
3or 4cables,3-phase a.c.
Ref.Methods3
and 4 (enclose
dinconduitetc, inoron a wall)
Ref.Methods1
and11(clippeddirector ontraystouching)
Ref.Methods3
and 4 (enclosedinconduitetc ,inoron a wall)
Ref.Methods1,
Ref.Methods1and11
11 and12 (intrefoil)
(Flat and touching)
1
2
3
4
5
6
7
mm2
mV/A/m
mV/A/m
mV/A/m
mV/A/m
mV/A/m
mV/A/m
1.0
46
46
-
-
-
-
Note :
r = conductor resistance at operating temperature
x = reactance
z = impedance