Outdoor Cabling
FGD400 1RVMV-R (CU/XLPE/PVC/SWA/PVC 600/1000V Multicore)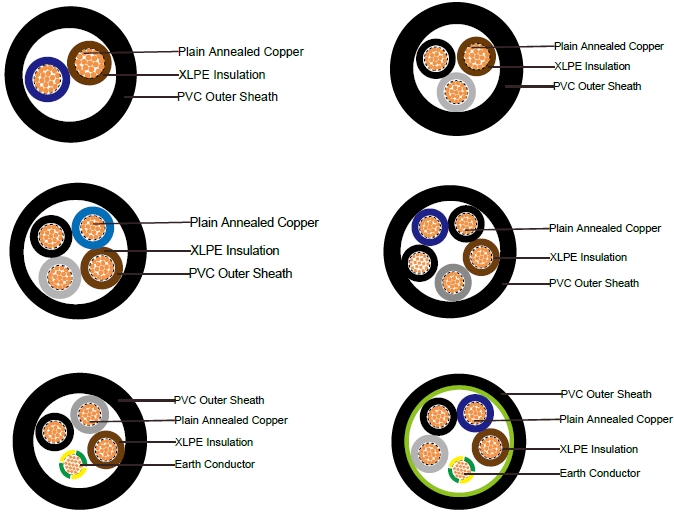 APPLICATION
Airprot cables are mainly used in power stations, mass transit underground passenger systems, airports,
petrochemical plants, hotels, hospitals, and high-rise buildings.
STANDARDS
Basic design to IEC 60502-1
FIRE PERFORMANCE
| | |
| --- | --- |
| FlameRetardance (SingleVerticalWireTest)** | EN60332-1-2; IEC60332-1-2; BSEN 60332-1-2; VDE0482-332-1; NBN C30-004 (cat.F1);NF C32-070-2.1(C2); CEI 20-35/1-2; EN 50265-2-1*; DIN VDE 0482-265-2-1* |
| Reduced FirePropagation(Vertically-mountedbundledwires &cabletest)** | EN60332-3-24 (cat.C); IEC60332-3-24;BSEN60332-3-24;VDE0482-332-3;NBN C30-004 (cat.F2);NF C32-070-2.2(C1);CEI 20-22/3-4; EN 50266-2-4*; DIN VDE 0482-266-2-4 |
Note: Asterisk ** denotes that the standard compliance is optional, depending on the oxygen index of the PVC
compound and the cable design.
VOLTAGE RATING
600/1000V
CABLE CONSTRUCTION
Conductor: Plain annealed copper wire, stranded according to IEC 60228 class 2.
Insulation: Extruded cross-linked XLPE compound.
Outer Sheath: Thermoplastic PVC compound.
COLOUR CODE
Insulation Colour as per BS7671
| | | |
| --- | --- | --- |
| | WithEarth Conductor | WithoutEarth Conductor |
| 2 Cores | - | Brown,Blue |
| 3 Cores | Yellow/Green,Brown,Blue | Brown,Gray, Black |
| 4 Cores | Yellow/Green,Brown,Gray, Black | Brown,Gray, Black,Blue |
| 5 Cores | Yellow/Green,Brown,Gray,Black,Blue | Brown,Gray, Black,Blue,Black |
| Above5 Cores | Yellow/Green,BlackNumbered | Black Numbered |
Sheath Colour: Black (other colors upon request)
Physical AND THERMAL PROPERTIES
Temperature Range During Operation: -40°C ~ 70°C
Temperature Range during Installation : -5°C ~ 50°C
Minimum Bending Radius: 6 x OD
Electrical PROPERTIES
Dielectric Test: 3500 Vr.m.s.x 5'(core/core)
Insulation Resistance: 500 MΩ x km ( at20°C )
Short circuit Temperature: 250°C ( up to5secs) CONSTRUCTION PARAMETERS
Cable
Code
Conductor
Nominal
Overall Diameter
Approx. Weight
No. of CoreX Cross
Section/CPC
Cross
Section
No./Nominal
Diameter
of
Strands
Nominal
Insulation Thickness
No.×mm2
No./mm
mm
mm
mm
2 CORES
FGD4001RV-R 2G1.5
2x1.5
7/0.53
0.7
10.0
126
FGD4001RV-R 2G2.5
2x2.5
7/0.67
0.7
10.8
158
FGD4001RV-R 2G4
2x4
7/0.85
0.7
11.9
205
FGD4001RV-R 2G6
2x6
7/1.04
0.7
13.0
264
FGD4001RV-R 2G10
2x10
7/1.35
0.7
14.9
378
FGD4001RV-R 2G16
2x16
7/1.70
0.7
17.0
534
FGD4001RV-R 2G25
2x25
7/2.14
0.9
20.4
650
FGD4001RV-R 2G35
2x35
7/2.52
0.9
22.7
880
3 CORES
FGD4001RV-R 3G1.5
3x1.5
7/0.53
0.7
10.5
145
FGD4001RV-R 3G2.5
3x2.5
7/0.67
0.7
11.4
185
FGD4001RV-R 3G4
3x4
7/0.85
0.7
12.5
247
FGD4001RV-R 3G6
3x6
7/1.04
0.7
13.8
323
FGD4001RV-R 3G10
3x10
7/1.35
0.7
15.8
474
FGD4001RV-R 3G16
3x16
7/1.70
0.7
18.0
682
FGD4001RV-R 3G25
3x25
7/2.14
0.9
21.7
910
FGD4001RV-R 3G35
3x35
7/2.52
0.9
24.0
1180
FGD4001RV-R 3G50
3x50(S)
19/1.78
1.0
25.5
1600
FGD4001RV-R 3G70
3x70(S)
19/2.14
1.1
29.0
2240
FGD4001RV-R 3G95
3x95(S)
19/2.52
1.1
33.5
3050
FGD4001RV-R 3G120
3x120(S)
37/2.03
1.2
37.5
3800
FGD4001RV-R 3G150
3x150(S)
37/2.25
1.4
40.5
4640
FGD4001RV-R 3G185
3x185(S)
37/2.52
1.6
45.0
5870
FGD4001RV-R 3G40
3x240(S)
61/2.25
1.7
50.5
7670
FGD4001RV-R 3G300
3x300(S)
61/2.52
1.8
57.0
9460
FGD4001RV-R 3G400
3x400(S)
61/2.85
2.0
63.0
11945
3CORE + 1EARTHCONDUCTOR
FGD4001RV-R 3G16/6
3x16/6
7/1.70
0.7
16.5
698
FGD4001RV-R 3G16/10
3x16/10
7/1.70
0.7
18.85
793
FGD4001RV-R 3G25/6
3x25/6
7/2.14
0.9
21.7
956
FGD4001RV-R 3G25/10
3x25/10
7/2.14
0.9
22.1
1021
FGD4001RV-R 3G25/16
3x25/16
7/2.14
0.9
23.0
1070
FGD4001RV-R 3G35/10
3x35/10
19/1.53
0.9
22.9
1263
FGD4001RV-R 3G35/16
3x35/16
19/1.53
0.9
24.3
1349
FGD4001RV-R 3G35/25
3x35/25
19/1.53
0.9
25.2
1470
FGD4001RV-R 3G50/16
3x50/16
19/1.78
1.0
26.1
1769
FGD4001RV-R 3G50/25
3x50/25
19/1.78
1.0
27.3
1890
FGD4001RV-R 3G50/35
3x50/35
19/1.78
1.0
27.8
1995
FGD4001RV-R 3G70/25
3x70/25
19/2.14
1.1
30.2
2530
FGD4001RV-R 3G70/35
3x70/35
19/2.14
1.1
30.9
2660
FGD4001RV-R 3G70/50
3x70/50
19/2.14
1.1
31.5
2840
FGD4001RV-R 3G95/25
3x95/25
19/2.52
1.1
35.1
3340
FGD4001RV-R 3G95/35
3x95/35
19/2.52
1.1
36.0
3470
FGD4001RV-R 3G95/50
3x95/50
19/2.52
1.1
36.8
3650
FGD4001RV-R 3G95/70
3x95/70
19/2.52
1.1
36.9
3890
FGD4001RV-R 3G120/35
3x120/35
37/2.03
1.2
38.2
3920
FGD4001RV-R 3G120/50
3x120/50
37/2.03
1.2
39.1
4400
FGD4001RV-R 3G120/70
3x120/70
37/2.03
1.2
40.0
4610
FGD4001RV-R 3G120/95
3x120/95
37/2.03
1.2
41.2
4820
FGD4001RV-R 3G150/50
3x150/50
37/2.25
1.4
41.5
5240
FGD4001RV-R 3G150/70
3x150/70
37/2.25
1.4
42.3
5450
FGD4001RV-R 3G150/95
3x150/95
37/2.25
1.4
43.6
5660
FGD4001RV-R 3G150/120
3x150/120
37/2.25
1.4
44.8
6240
FGD4001RV-R 3G185/70
3x185/70
37/2.52
1.6
47.5
6680
FGD4001RV-R 3G185/95
3x185/95
37/2.52
1.6
47.9
6990
FGD4001RV-R 3G185/120
3x185/120
37/2.52
1.6
48.5
7395
FGD4001RV-R 3G185/150
3x185/150
37/2.52
1.6
49.2
7580
FGD4001RV-R 3G240/95
3x240/95
61/2.25
1.7
53.4
8690
FGD4001RV-R 3G240/120
3x240/120
61/2.25
1.7
54.9
9095
FGD4001RV-R 3G240/150
3x240/150
61/2.25
1.7
55.6
9380
FGD4001RV-R 3G240/185
3x240/185
61/2.25
1.7
56.8
9687
FGD4001RV-R 3G300/120
3x300/120
61/2.52
1.8
58.1
10480
FGD4001RV-R 3G300/150
3x300/150
61/2.52
1.8
57.3
11170
FGD4001RV-R 3G300/185
3x300/185
61/2.52
1.8
58.7
11480
FGD4001RV-R 3G300/240
3x300/240
61/2.52
1.8
62.4
11290
4 CORES
FGD4001RV-R 4G1.5
4x1.5
7/0.53
0.7
11.3
169
FGD4001RV-R 4G2.5
4x2.5
7/0.67
0.7
12.3
220
FGD4001RV-R 4G4
4x4
7/0.85
0.7
13.6
297
FGD4001RV-R 4G6
4x6
7/1.04
0.7
15.0
392
FGD4001RV-R 4G10
4x10
7/1.35
0.7
17.2
585
FGD4001RV-R 4G16
4x16
7/1.70
0.7
19.7
851
FGD4001RV-R 4G25
4x25
7/2.14
0.9
23.9
1200
FGD4001RV-R 4G35
4x35(S)
7/2.52
0.9
25.0
1600
FGD4001RV-R 4G50
4x50(S)
19/1.78
1.0
28.0
2200
FGD4001RV-R 4G70
4x70(S)
19/2.14
1.1
32.0
3050
FGD4001RV-R 4G95
4x95(S)
19/2.52
1.1
37.0
4070
FGD4001RV-R 4G120
4x120(S)
37/2.03
1.2
42.0
5915
FGD4001RV-R 4G150
4x150(S)
37/2.25
1.4
46.0
6350
FGD4001RV-R 4G185
4x185(S)
37/2.52
1.6
50.0
7890
FGD4001RV-R 4G240
4x240(S)
61/2.25
1.7
57.0
10400
FGD4001RV-R 4G300
4x300(S)
61/2.52
1.8
63.0
12810
FGD4001RV-R 4G400
4x400(S)
61/2.85
2.0
71.0
15869
FGD4001RV-R 4G500
4x500(S)
61/3.20
2.2
78.0
20300
4CORE + 1EARTHCONDUCTOR
FGD4001RV-R 4G16/6
4x16/6
7/1.70
0.7
19
654
FGD4001RV-R 4G16/10
4x16/10
7/1.70
0.7
21.9
962
FGD4001RV-R 4G25/6
4x25/10
7/2.14
0.7
25.3
1256
FGD4001RV-R 4G25/10
4x25/10
7/2.14
0.7
26.6
1311
FGD4001RV-R 4G25/16
4x25/16
7/2.14
0.7
27.3
1369
FGD4001RV-R 4G35/10
4x35/10
19/1.53
0.9
26.8
1658
FGD4001RV-R 4G35/16
4x35/16
19/1.53
0.9
27.6
1769
FGD4001RV-R 4G35/25
4x35/25
19/1.53
0.9
28.4
1890
FGD4001RV-R 4G50/16
4x50/16
19/1.78
1.0
29.4
2369
FGD4001RV-R 4G50/25
4x50/25
19/1.78
1.0
31.6
2490
FGD4001RV-R 4G50/35
4x50/35
19/1.78
1.0
33.2
2599
FGD4001RV-R 4G70/25
4x70/25
19/2.14
1.1
34.2
3340
FGD4001RV-R 4G70/35
4x70/35
19/2.14
1.1
35.6
3470
FGD4001RV-R 4G70/50
4x70/50
19/2.14
1.1
37.8
3650
FGD4001RV-R 4G95/25
4x95/25
19/2.52
1.1
42.6
4360
FGD4001RV-R 4G95/35
4x95/35
19/2.52
1.1
43.3
4510
FGD4001RV-R 4G95/50
4x95/50
19/2.52
1.1
44.1
4670
FGD4001RV-R 4G95/70
4x95/70
19/2.52
1.1
45.3
4783
FGD4001RV-R 4G120/35
4x120/35
37/2.03
1.2
42.6
6335
FGD4001RV-R 4G120/50
4x120/50
37/2.03
1.2
43.8
6515
FGD4001RV-R 4G120/70
4x120/70
37/2.03
1.2
45.9
6725
FGD4001RV-R 4G120/95
4x120/95
37/2.03
1.2
46.4
6920
FGD4001RV-R 4G150/50
4x150/50
37/2.25
1.4
47.3
6950
FGD4001RV-R 4G150/70
4x150/70
37/2.25
1.4
48.5
7160
FGD4001RV-R 4G150/95
4x150/95
37/2.25
1.4
50.2
7370
FGD4001RV-R 4G150/120
4x150/120
37/2.25
1.4
53.7
7965
FGD4001RV-R 4G185/70
4x185/70
37/2.52
1.6
52.4
8490
FGD4001RV-R 4G185/95
4x185/95
37/2.52
1.6
53.9
8700
FGD4001RV-R 4G185/120
4x185/120
37/2.52
1.6
55.6
8910
FGD4001RV-R 4G185/150
4x185/150
37/2.52
1.6
59.4
9260
FGD4001RV-R 4G240/95
4x240/95
61/2.25
1.7
61.9
11210
FGD4001RV-R 4G240/120
4x240/120
61/2.25
1.7
63.4
11420
FGD4001RV-R 4G240/150
4x240/150
61/2.25
1.7
63.9
12010
FGD4001RV-R 4G240/185
4x240/185
61/2.25
1.7
64.3
12090
FGD4001RV-R 4G300/120
4x300/120
61/2.52
1.8
64.0
12110
FGD4001RV-R 4G300/150
4x300/150
61/2.52
1.8
66.1
13830
FGD4001RV-R 4G300/185
4x300/185
61/2.52
1.8
71.5
14520
FGD4001RV-R 4G300/240
4x300/240
61/2.52
1.8
72.0
14830
5 CORES
FGD4001RV-R 5G1.5
5x1.5
7/0.53
0.7
13.7
205
FGD4001RV-R 5G2.5
5x2.5
7/0.85
0.7
14.9
265
FGD4001RV-R 5G4
5x4
7/0.85
0.7
16.3
360
FGD4001RV-R 5G6
5x6
7/1.04
0.7
18.2
478
FGD4001RV-R 5G10
5x10
7/1.04
0.7
20.8
720
FGD4001RV-R 5G16
5x16
7/1.04
0.7
24.2
1050
FGD4001RV-R 5G25
5x25
7/1.04
0.7
29.4
1485
FGD4001RV-R 5G35
5x35(S)
7/2.52
0.9
30.3
1940
FGD4001RV-R 5G50
5x50(S)
19/1.78
1.0
34
2667
FGD4001RV-R 5G70
5x70(S)
19/2.14
1.1
38.5
3698
FGD4001RV-R 5G95
5x95(S)
19/2.52
1.1
44.6
4934
FGD4001RV-R 5G120
5x120(S)
37/2.03
1.2
45.8
7171
FGD4001RV-R 5G150
5x150(S)
37/2.25
1.4
55.6
7699
FGD4001RV-R 5G185
5x185(S)
37/2.52
1.6
60.4
9566
FGD4001RV-R 5G240
5x240(S)
61/2.25
1.7
69.1
12610
FGD4001RV-R 5G300
5x300(S)
61/2.52
1.8
76.4
15532
FGD4001RV-R 5G400
5x400(S)
61/2.85
2.0
86.1
19241
FGD4001RV-R 5G500
5x500(S)
61/3.20
2.2
94.4
24613
Electrical PROPERTIES
Conductor Operating Temperature : 90°C
Ambient Temperature : 30°C
Current-Carrying Capacities (Amp)
Conductor
cross- sectional area

Reference
Method4(enclosed

in conduitin thermally

insulatingwalletc)

Reference

Method3 (enclosed inconduit ona wallorin

trunkingetc)

Reference
Method1
(clipped direct)

Reference
Method11
(onaperforated cabletray,
horizontalorvertical)

Reference
Method 12(freeair)

Horizontalflat spaced

Verticalflat spaced

Trefoil

2cables, single- phase

a.c.ord.c.

3 or 4cables, 3-phasea.c.

2cables, single- phase

a.c.ord.c

3 or 4cables, 3-phasea.c.

2cables, single- phase
a.c.or
d.c. flat
and
touching

3 or 4cables, 3-phase
a.c. flat
and
touching or trefoil

2cables,
single- phase
a.c.or
d.c.orflat and touching

3 or 4cables, 3-phase
a.c. flat
and
touching or trefoil

2cables, single- phase
a.c.ord.c.or 3cables
three phase

2cables, single- phase
a.c.ord.c.or 3cables three phase

3cables, trefoil
3-phasea.c.

1
2
3
4
5
6
7
8
9
10
11
12
mm2
A
A
A
A
A
A
A
A
A
A
A
1.5
18
17
22
19
25
23
-
-
-
-
-
2.5
24
23
30
26
34
31
-
-
-
-
-
4
33
30
40
35
46
41
-
-
-
-
-
6
43
39
51
45
59
54
-
-
-
-
-
10
58
53
71
63
81
74
-
-
-
-
-
16
76
70
95
85
109
99
-
-
-
-
-
25
100
91
126
111
143
130
158
140
183
163
138
35
125
111
156
138
176
161
195
176
226
203
171
50
149
135
189
168
228
209
293
215
274
246
209
70
189
170
240
214
293
268
308
279
351
318
270
95
228
205
290
259
355
326
375
341
426
389
330
120
263
235
336
299
413
379
436
398
495
453
385
150
300
270
375
328
476
436
505
461
570
524
445
185
341
306
426
370
545
500
579
530
651
600
511
240
400
358
500
433
644
590
686
630
769
711
606
300
459
410
573
493
743
681
794
730
886
824
701
400
-
-
684
584
868
793
915
849
1065
994
820
500
-
-
783
666
990
904
1044
973
1228
1150
936
Voltage Drop (Per Amp Per Meter)
Size
of
conductor
2cablesd.c.
2cables,
single-phasea.c.
3or 4cables,3-phase a.c.
Ref.
Methods3 and 4(enclosed
inconduitetc, inoron a wall)
Ref.Methods1 and11
(clippeddirector ontraystouching)
Ref.Methods3 and 4(enclosed
inconduitetc, inoron a wall)
Ref.Methods1, 11 and12 (intrefoil)
Ref.
Methods1and11 (Flat and touching)
1
2
3
4
5
6
7
mm2
mV/A/m
mV/A/m
mV/A/m
mV/A/m
mV/A/m
mV/A/m
1.5
31
31
27
27
27
27
2.5
19
19
16
16
16
16
4
33
12
10
10
10
10
6
7.8
7.9
6.8
6.8
6.8
6.8
10
4.7
4.7
4.7
4
4
4
16
2.9
2.9
2.9
2.5
2.5
2.5

r
x
z
r
x
z
r
x
z
r
x
z
r
x
z
25
1.85
1.85
0.31
1.90
1.85
0.190
1.85
1.60
0.27
1.65
1.600
0.165
1.600
1.600
0.190
1.600
35
1.35
1.35
0.29
1.35
1.35
0.180
1.35
1.15
0.25
1.15
1.150
0.155
1.50
1.150
0.180
1.150
50
0.99
1.00
0.29
1.05
0.99
0.180
1.00
0.87
0.25
0.90
0.860
0.155
0.870
0.860
0.180
0.870
70
0.68
0.70
0.28
0.75
0.68
0.175
0.71
0.60
0.24
0.65
0.590
0.150
0.610
0.590
0.175
0.620
95
0.49
0.51
0.27
0.58
0.49
0.170
0.52
0.44
0.23
0.50
0.430
0.145
0.450
0.430
0.170
0.460
120
0.39
0.41
0.26
0.48
0.39
0.165
0.43
0.35
0.23
0.42
0.340
0.140
0.370
0.340
0.165
0.380
150
0.32
0.33
0.26
0.43
0.32
0.165
0.36
0.29
0.23
0.37
0.280
0.140
0.310
0.280
0.165
0.320
185
0.25
0.27
0.26
0.37
0.26
0.165
0.30
0.23
0.23
0.32
0.220
0.140
0.260
0.220
0.165
0.280
240
0.19
0.21
0.26
0.33
0.20
0.160
0.25
0.185
0.22
0.29
0.170
0.140
0.220
0.170
0.165
0.240
300
0.155
0.175
0.25
0.31
0.16
0.160
0.22
0.150
0.22
0.27
0.140
0.140
0.195
0.135
0.160
0.210
400
0.12
0.140
0.25
0.29
0.13
0.155
0.20
0.125
0.22
0.25
0.110
0.135
0.175
0.110
0.160
0.195
500
0.093
0.120
0.25
0.28
0.105
0.155
0.185
0.100
0.22
0.24
0.090
0.135
0.160
0.088
0.160
0.180
Note :
r = conductor resistance at operating temperature
x = reactance z = impedance