Submarine Cables
Pair Screened Partially Longitudinally Water Blocked Cable
Applications
These outboard installation cables for naval vessels are transversally water blocked and longitudinally
completely water blocked (all wires are not water blocked), designed according to VG 95218 part 29.
Construction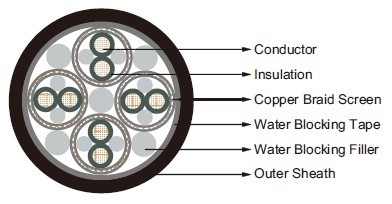 Conductor:Copper conductor, fine stranded.
Insulation: Special elastomer.
Cable Element: Pairs.
Individual Screen: Pairs are screened with tinned copper wire braid.
Fillers: Water-blocking fillers.
Separator: Water-blocking tapes.
Sheath: Cross linked halogen free flame retardant compound.
Electrical Data:
500V
| | |
| --- | --- |
| Number of Cores × Nominal Cross Section Area | Maximum Transfer impedance |
| No. × mm² | m Ω /m |
| 4×2×0.75 | 15 |
| 7×2×0.75 | 15 |
| 8×2×0.75 | 15 |
| 10×2×0.75 | 15 |
| 27×2×0.38 | 15 |
Dimension and Weight:
Number of Cores × Nominal
Cross Section Area
Maximum Single
Core Diameter
Minimum Sheath
Thickness
Minimum Overall
Diameter
Maximum Overall
Diameter
Maximum Weight
No. × mm²
mm
mm
mm
mm
kg/km
4×2×0.75
1.9
1.7
17.8
18.4
430
7×2×0.75
1.9
2.0
19.8
20.4
650
8×2×0.75
1.9
2.0
22.1
22.7
720
10×2×0.75
1.9
2.0
26.3
26.9
900
27×2×0.38
1.3
2.5
34.1
34.7
1500