Longitudinally Water Blocked Cable

Applications
These outboard installation cables for naval vessels are transversally water blocked and longitudinally completely water blocked, designed according to VG 95218 part 29.
Construction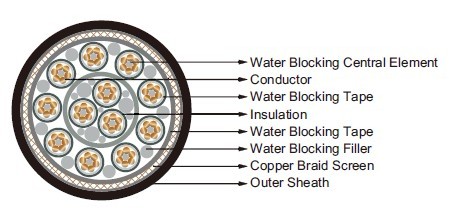 Conductor: Copper conductor, fine stranded.
Central Element: Water-blocking central element.
Separator: Water-blocking tape.
Insulation: Special elastomer.
Fillers: Water-blocking filler.
Separator: Water-blocking tape.
Screen: Copper braid with tinned wires.
Sheath: Cross linked halogen free flame retardant compound.
Electrical Data:
500V
| | |
| --- | --- |
| Number of Cores × Nominal Cross Section Area | Maximum Transfer impedance |
| No. × mm² | m Ω /m |
| 2×1.5 | 30 |
| 3×1.5 | 30 |
| 3G1.5 | 30 |
| 7×1.5 | 30 |
| 4×2×0.75 | 30 |
| 12×0.75 | 30 |
| 12×1.5 | 30 |
| 24×1.5 | 30 |
Dimension and Weight:
Number of Cores × Nominal
Cross Section Area

Maximum Single
Core Diameter

Minimum Sheath
Thickness

Minimum Overall
Diameter

Maximum Overall
Diameter

Maximum Weight

No. × mm²

mm

mm

mm

mm

kg/km

2×1.5

3.4

2.0

12.6

13.2

200

3×1.5

3.4

2.0

13.4

13.8

250

3G1.5

3.4

2.0

13.4

13.8

250

7×1.5

3.4

1.5

15.7

16.2

430

4×2×0.75

2.5

2.0

20.6

21.2

560

12×0.75

2.5

2.0

18.5

19.1

540

12×1.5

3.4

2.0

20.9

21.5

700

24×1.5

3.4

2.0

28.1

28.7

1230