Railway Cables

| | | | | | | |
| --- | --- | --- | --- | --- | --- | --- |
| Railway Signalling & Control Cables | | Railway Telecom Cables | | Railway Power & Control Cables | | FIRERAIL Traction Cables |

SXCAV & SXCAG Signalling Cables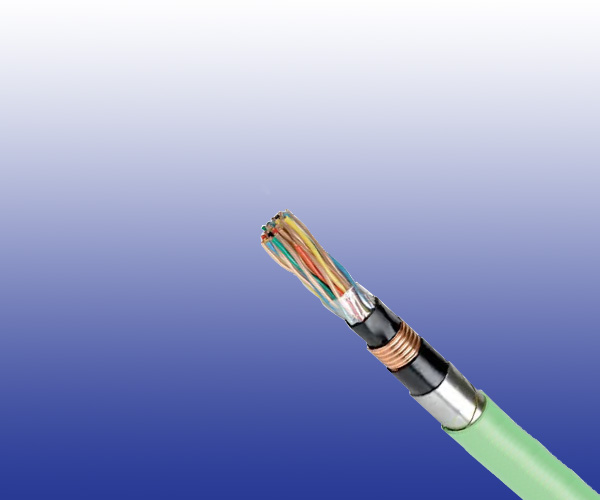 Application
The cables are designed for connection between switching centers and equipment shelters along the trackside.
The cables are used as main signalling cables specially designed to give good induction protection (R.F=0.24 at
inductive voltage 170 V/km) and are suitable for installation in intercity railways electrifi ed at 25KV ac.
Standards
SXCAV SXCAG Specifi cation
Fire performance: EN 50266-2-4 C
Construction
Conductors: Class 1 solid bare copper conductor.
Insulation: Coloured cross-linked PE insulation.
Cabling Element: Each two conductors are twisted together to form a pair.
Stranding: Pairs are helically stranded in layers to form the cable core.
Core Wrapping: Plastic tape(s) with overlapping.
Inner Sheath: PE sheath.
Electrostatic Shield: One corrugated copper tape.
Intermediate Sheath: PE sheath.
Electromagnetic Shield: Two helically applied steel tapes.
Outer Sheath: Black unleaded PVC (SXCAV) or green halogen free (SXCAG) sheath.
Electrical Characteristics at 20℃
| | | |
| --- | --- | --- |
| Nominal Conductor Diameter | mm | 1.38 |
| Nominal Cross Section Area | mm² | 1.5 |
| Maximum Conductor Resistance (DC) | Ω/km | 12.3 |
| Minimum Insulation Resistance @500 V DC (3mins) | MΩ.km | 10000 |
| Maximum Mutual Capacitance @1000Hz (AC) | nF/km | 60 |
| Maximum Reduction Factor @170V/km 50Hz | | 0.24 |
| Operating Voltage | V | 1000 |
Mechanical and Thermal Properties
Minimum Bending Radius: 10×OD
Temperature Range: -25℃ to +90℃ (during operation); -10℃ to +90℃ (during installation)
Dimensions And Weight
SXCAV Cables
Cable Code
Number of
Pairs
Nominal Sheath Thickness
mm
Nominal Overall
Diameter
mm
Nominal Weight
kg/km
Inner
Inter.
Outer
1.38mm Conductor, 2.38mm Insulated Wire
RS/SXCAV-2Y2Y(K)2YBY-1P1.5S
1
1.0
0.8
1.6
16.9
513
RS/SXCAV-2Y2Y(K)2YBY-4P1.5S
4
1.0
0.8
1.6
23.1
826
RS/SXCAV-2Y2Y(K)2YBY-7P1.5S
7
1.0
0.8
1.7
26.1
1060
RS/SXCAV-2Y2Y(K)2YBY-14P1.5S
14
1.2
0.8
1.8
32.3
1571
RS/SXCAV-2Y2Y(K)2YBY-24P1.5S
24
1.2
1.1
2.0
38.3
2199
RS/SXCAV-2Y2Y(K)2YBY-30P1.5S
30
1.2
1.1
2.2
42.8
2555
SXCAG Cables
Cable Code
Number of
Pairs
Nominal Sheath Thickness
mm
Nominal Overall
Diameter
mm
Nominal Weight
kg/km
Inner
Inter.
Outer
1.38mm Conductor, 2.38mm Insulated Wire
RS/SXCAG-2Y2Y(K)2YBH-1P1.5S
1
1.0
0.8
1.6
16.9
515
RS/SXCAG-2Y2Y(K)2YBH-4P1.5S
4
1.0
0.8
1.6
23.1
855
RS/SXCAG-2Y2Y(K)2YBH-7P1.5S
7
1.0
0.8
1.7
26.1
1095
RS/SXCAG-2Y2Y(K)2YBH-14P1.5S
14
1.2
0.8
1.8
32.3
1616
RS/SXCAG-2Y2Y(K)2YBH-24P1.5S
24
1.2
1.1
2.0
38.3
2260
RS/SXCAG-2Y2Y(K)2YBH-30P1.5S
30
1.2
1.1
2.2
42.8
2625