Railway Cables

| | | | | | | |
| --- | --- | --- | --- | --- | --- | --- |
| Railway Signalling & Control Cables | | Railway Telecom Cables | | Railway Power & Control Cables | | FIRERAIL Traction Cables |

MD4 Fire Resisting Telecom Cables (CR1-C1 Class)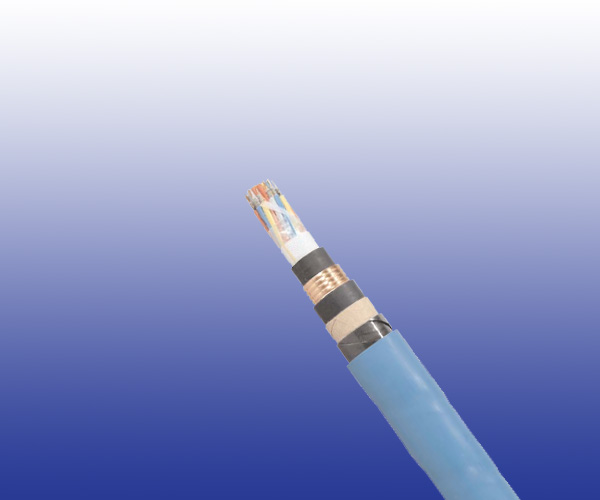 Application
The cables are telecommunication cables for tunnel application. The cables are halogen free fi re resistant,
inductive protected and armoured.
Standards
Fire retardant: NBN C 30-004 F2
Fire resistant: NBN 713-020 Add.3. -RF 1h
Construction
Conductors: Solid copper conductor, 0.5mm² nominal cross section area.
Insulation: Mica-tape + LSZH insulation.
Cabling Element: Four conductors are twisted to form a quad.
Stranding: Quads are helically stranded in concentric layers.
Core Wrapping: Plastic tape(s) with overlapping.
Inner Sheath: LSZH sheath.
Screen: Copper tape screen.
Intermediate Sheath: LSZH sheath.
Armour: Two layer of steel tape.
Outer Sheath: LSZH sheath.
Electrical Characteristics at 20℃
| | | |
| --- | --- | --- |
| Nominal Conductor Diameter | mm | 0.8 |
| Nominal Cross Section Area | mm² | 0.5 |
| Nominal Insulation Thickness | mm | 0.5 |
| Maximum Conductor Resistance (DC) | Ω/km | 36.7 |
| Minimum Insulation Resistance | MΩ.km | 100 |
| Maximum Capacitance | nF/km | 120 |
| Voltage Test 2 mins | KVac | 0.5 |
Mechanical and Thermal Properties
Minimum Bending Radius: 10×OD
Temperature Range: -40℃ to +60℃ (during operation); -10℃ +60℃ (during installation)
Dimensions And Weight
Cable Code
No. of
Quads
Nominal Sheath Thickness
mm
Nominal Overall
Diameter
mm
Nominal Weight
kg/km
Inner
Inter.
Outer
0.8mm Conductor, 1.8mm Insulated Wire
RS/MD4-HH(K)HBH-7Q0.8-FR
7
1.0
1.0
1.8
30.7
1074