Railway Cables

| | | | | | | |
| --- | --- | --- | --- | --- | --- | --- |
| Railway Signalling & Control Cables | | Railway Telecom Cables | | Railway Power & Control Cables | | FIRERAIL Traction Cables |

K24 LSZH Subway Signalling Cables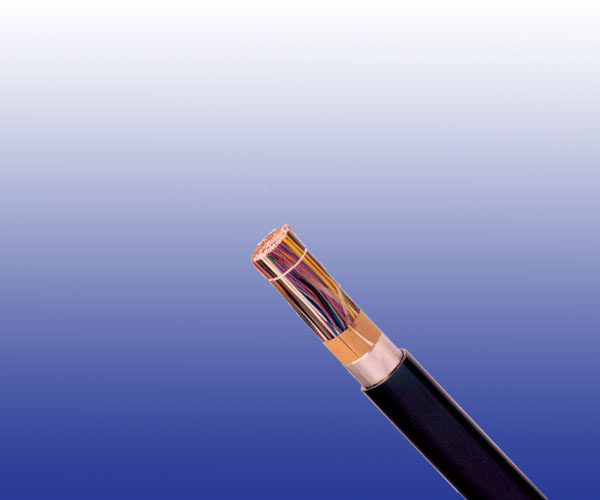 Application
The cables are designed for remote control and teletransmission in underground railway networks. The cables
can be laid in channel, cable tray, or on hook supports, along suburban railway lines electrifi ed at maximum
1500V DC
Standards
AFNOR NF F 55-624
Construction
Conductors: Solid copper conductor, 0.5/0.6/0.9 mm nominal diameter.
Insulation: Polyethylene insulation.
Cabling Element: Each two conductors are twisted together to form a pair.
Stranding: For cables less than 15 pairs, pairs are helically stranded in concentric layers to form the cable core.
For cables from 21 to 112 pairs, pairs are stranded in concentric layers or bundles to form the cables core.
Core Wrapping: One or more synthetic long ribbons or tapes are arranged on the cable core.
Screen: Aluminium/Polyester tape.
Drain Wire: A tinned copper drain wire, 0.5mm nominal diameter.
Sheath: Fire retardant LSZH.
Optional:
Armoured Cables: For armoured cable, one or more tape(s) is (are) helically applied with overlap on the screen
to form a bedding, and double steel tapes armour with a halogen-free fi re retardant outer sheath are applied
on the bedding.
Electrical Characteristics at 20℃
| | | | | |
| --- | --- | --- | --- | --- |
| Nominal Conductor Diameter | mm | 0.5 | 0.6 | 0.9 |
| Minimum Insulation Resistance | MΩ.km | 5000 | 5000 | 5000 |
| Maximum Operating Voltage | V | 200 | 200 | 400 |
| Maximum Permissible Current | A | 0.25 | 0.35 | 0.80 |
Mechanical and Thermal Properties
Minimum Bending Radius: 7.5×OD (unarmoured); 10×OD (armoured)
Temperature Range: -40℃ to +60℃ (during operation); -20℃ to +50℃ (during installation)
Dimensions And Weight
Unarmoured K24 Cables A-2Y(L)H n×2×0.5/0.6/0.9
Cable Code
Number of Pairs
(n)
Nominal Sheath
Thickness
mm
Nominal Overall
Diameter
mm
Nominal Weight
kg/km
0.5mm Conductor, 0.9mm Insulated Wire
RS/K24-2Y(L)H-2P0.5
2
1.0
6.0
55
RS/K24-2Y(L)H-3P0.5
3
1.0
6.5
65
RS/K24-2Y(L)H-5P0.5
5
1.0
7.0
80
RS/K24-2Y(L)H-7P0.5
7
1.0
8.0
95
RS/K24-2Y(L)H-10P0.5
10
1.0
9.0
120
RS/K24-2Y(L)H-15P0.5
15
1.2
10.5
150
RS/K24-2Y(L)H-21P0.5
21
1.2
12.5
185
0.6mm Conductor, 0.96mm Insulated Wire
RS/K24-2Y(L)H-2P0.6
2
1.0
6.5
65
RS/K24-2Y(L)H-3P0.6
3
1.0
7.0
70
RS/K24-2Y(L)H-5P0.6
5
1.0
8.0
90
RS/K24-2Y(L)H-7P0.6
7
1.0
8.5
110
RS/K24-2Y(L)H-10P0.6
10
1.2
10.0
140
RS/K24-2Y(L)H-15P0.6
15
1.2
11.5
175
RS/K24-2Y(L)H-21P0.6
21
1.2
13.5
225
0.9mm Conductor, 1.5mm Insulated Wire
RS/K24-2Y(L)H-2P0.9
2
1.0
8.5
95
RS/K24-2Y(L)H-3P0.9
3
1.0
9.0
110
RS/K24-2Y(L)H-5P0.9
5
1.0
10.5
150
RS/K24-2Y(L)H-7P0.9
7
1.2
12.0
185
RS/K24-2Y(L)H-10P0.9
10
1.2
13.5
245
RS/K24-2Y(L)H-15P0.9
15
1.4
15.0
340
RS/K24-2Y(L)H-21P0.9
21
1.4
19.0
435
Armoured K24 Cables A-2Y(L)HBH n×2×0.5/0.6/0.9
Cable Code
Number of Pairs
(n)
Nominal Sheath Thickness
mm
Nominal Overall
Diameter
mm
Nominal Weight
kg/km
Inner
Outer
RS/K24-2Y(L)HBH-2P0.5
2
1.0
1.0
10.0
195
RS/K24-2Y(L)HBH-3P0.5
3
1.0
1.0
10.5
205
RS/K24-2Y(L)HBH-5P0.5
5
1.0
1.0
11.0
230
RS/K24-2Y(L)HBH-7P0.5
7
1.0
1.0
12.0
255
RS/K24-2Y(L)HBH-10P0.5
10
1.0
1.0
13.0
295
RS/K24-2Y(L)HBH-15P0.5
15
1.0
1.2
14.5
345
RS/K24-2Y(L)HBH-21P0.5
21
1.0
1.2
16.5
400
0.6mm Conductor, 0.96mm Insulated Wire
RS/K24-2Y(L)HBH-2P0.6
2
1.0
1.0
10.5
200
RS/K24-2Y(L)HBH-3P0.6
3
1.0
1.0
11.0
210
RS/K24-2Y(L)HBH-5P0.6
5
1.0
1.0
12.0
245
RS/K24-2Y(L)HBH-7P0.6
7
1.0
1.0
12.5
285
RS/K24-2Y(L)HBH-10P0.6
10
1.0
1.2
14.0
330
RS/K24-2Y(L)HBH-15P0.6
15
1.0
1.2
15.5
385
RS/K24-2Y(L)HBH-21P0.6
21
1.0
1.2
18.0
450
0.9mm Conductor, 1.5mm Insulated Wire
RS/K24-2Y(L)HBH-2P0.9
2
1.0
1.0
12.5
260
RS/K24-2Y(L)HBH-3P0.9
3
1.0
1.0
13.5
285
RS/K24-2Y(L)HBH-5P0.9
5
1.0
1.0
14.5
345
RS/K24-2Y(L)HBH-7P0.9
7
1.0
1.2
16.0
395
RS/K24-2Y(L)HBH-10P0.9
10
1.0
1.2
18.0
485
RS/K24-2Y(L)HBH-15P0.9
15
1.0
1.4
19.5
610
RS/K24-2Y(L)HBH-21P0.9
21
1.0
1.4
24.0
735