Railway Cables

| | | | | | | |
| --- | --- | --- | --- | --- | --- | --- |
| Railway Signalling & Control Cables | | Railway Telecom Cables | | Railway Power & Control Cables | | FIRERAIL Traction Cables |

K23 LSZH Subway Signalling Cables for Metro/Local Trains/Tramlines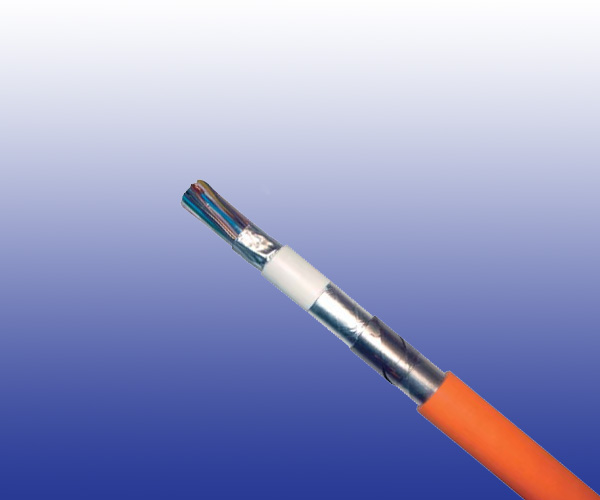 Application
The cables are designed for remote control and teletransmission in underground railway networks. The cables
can be laid in channel, cable tray, or on hook supports, along suburban railway lines electrifi ed at maximum
1500V DC.
Standards
NF F 55-623
Construction
Conductors: Copper wire, 0.6, 0.8, 1.0 or 1.2 mm nominal diameter
Insulation: Solid polyethylene.
Cabling Element: Four conductors are twisted to form a star quad. For 1 & 4 pair cables, conductors shall be
twisted in pairs.
Stranding: Quads are stranded in helically laid concentric layers or units to form the cable core.
Core Wrapping: Plastic tape(s) with overlapping.
Moisture Barrier: One laminated sheath made of aluminium tape coated with PE-Copolymer on at least one side
is applied with longitudinally overlap.
Inner Sheath: LSZH fi re retardant compound.
Armour: Two helically applied steel tapes.
Outer Sheath: LSZH fi re retardant compound.
Electrical Characteristics at 20℃
| | | | | | |
| --- | --- | --- | --- | --- | --- |
| Nominal Conductor Diameter | mm | 0.6 | 0.8 | 1.0 | 1.2 |
| Maximum Average DC Conductor Resistance | Ω/km | 64.0 | 36.0 | 23.0 | 16.0 |
| Minimum Insulation Resistance @500 V DC (3min) | MΩ.km | 5000 | 5000 | 5000 | 5000 |
| Maximum Mutual Capacitance @1000Hz (AC) | nF/km | 57.5 | 57.5 | 57.5 | 57.5 |
| Maximum Capacitance Unbalance @800Hz | | | | | |
| K1 (side to side) | pF/500m | 435 | 435 | 435 | 435 |
| K9-12 (quad to quad) | pF/500m | 220 | 220 | 220 | 220 |
| Operating Voltages | V | 200 | 400 | 500 | 750 |
| Maximum Permissible Current | A | 0.35 | 0.63 | 1.0 | 1.4 |
| Dielectric Strength (DC voltage 1min) | | | | | |
| Conductor to Conductor | V | 1500 | 2000 | 3000 | 3000 |
| Conductor to Screen | V | 1500 | 1500 | 1500 | 1500 |
Mechanical and Thermal Properties
Minimum Bending Radius: 8×OD (static); 16×OD (dynamic)
Temperature Range: -40℃ to +60℃ (during operation); -20℃ to +50℃ (during installation)
Dimensions And Weight
Cable Code
Number
of Pairs
Spare
pairs
Minimum Sheath Thickness
mm
Maximum Overall
Diameter
mm
Nominal
Weight
kg/km
Inner
Outer
0.6mm Conductor, 0.96mm Insulated Wire (6/10)
RS/K23-2Y(L)HBH-2P0.6
2
-
1.0
1.0
10.5
130
RS/K23-2Y(L)HBH-4P0.6
4
-
1.0
1.0
14.0
171
RS/K23-2Y(L)HBH-8P0.6
8
-
1.0
1.0
16.5
215
RS/K23-2Y(L)HBH-14P0.6
14
-
1.0
1.2
17.5
290
RS/K23-2Y(L)HBH-20P0.6
20
-
1.0
1.2
18.5
350
RS/K23-2Y(L)HBH-28P0.6
28
-
1.0
1.4
21.0
441
RS/K23-2Y(L)HBH-38P0.6
38
-
1.0
1.4
21.5
533
RS/K23-2Y(L)HBH-56P0.6
56
-
1.0
1.4
23.0
700
RS/K23-2Y(L)HBH-84P0.6
84
-
1.0
1.6
28.0
970
RS/K23-2Y(L)HBH-112P0.6
112
-
1.0
1.6
30.5
1190
RS/K23-2Y(L)HBH-168P0.6
168
2
1.0
1.8
38.0
1847
RS/K23-2Y(L)HBH-224P0.6
224
2
1.0
2.0
44.0
2675
RS/K23-2Y(L)HBH-280P0.6
280
2
1.0
2.0
51.0
3185
RS/K23-2Y(L)HBH-336P0.6
336
4
1.0
2.0
57.0
3680
RS/K23-2Y(L)HBH-392P0.6
392
4
1.0
2.0
58.5
4168
RS/K23-2Y(L)HBH-448P0.6
448
4
1.0
2.2
67.0
4647
RS/K23-2Y(L)HBH-784P0.6
784
4
1.0
2.2
90.5
7406
RS/K23-2Y(L)HBH-896P0.6
896
6
1.0
2.2
102.5
8315
0.8mm Conductor, 1.27 mm Insulated Wire (8/10)
RS/K23-2Y(L)HBH-2P0.8
2
-
1.0
1.0
11.5
155
RS/K23-2Y(L)HBH-4P0.8
4
-
1.0
1.0
15.5
216
RS/K23-2Y(L)HBH-8P0.8
8
-
1.0
1.2
17.5
298
RS/K23-2Y(L)HBH-14P0.8
14
-
1.0
1.4
20.5
412
RS/K23-2Y(L)HBH-20P0.8
20
-
1.0
1.4
23.0
512
RS/K23-2Y(L)HBH-28P0.8
28
-
1.0
1.4
24.5
637
RS/K23-2Y(L)HBH-38P0.8
38
-
1.0
1.6
26.5
805
RS/K23-2Y(L)HBH-56P0.8
56
-
1.0
1.6
32.0
1096
RS/K23-2Y(L)HBH-84P0.8
84
-
1.0
1.8
39.0
1504
RS/K23-2Y(L)HBH-112P0.8
112
-
1.0
1.8
40.5
1880
1.0mm Conductor, 1.8mm Insulated Wire (10/10)
RS/K23-2Y(L)HBH-2P1
2
-
1.0
1.0
12.0
195
RS/K23-2Y(L)HBH-4P1
4
-
1.0
1.2
17.5
298
RS/K23-2Y(L)HBH-8P1
8
-
1.0
1.4
20.5
431
RS/K23-2Y(L)HBH-14P1
14
-
1.0
1.4
23.5
587
RS/K23-2Y(L)HBH-20P1
20
-
1.0
1.6
25.0
762
RS/K23-2Y(L)HBH-28P1
28
-
1.0
1.6
29.0
981
RS/K23-2Y(L)HBH-38P1
38
-
1.0
1.6
31.5
1243
RS/K23-2Y(L)HBH-56P1
56
-
1.0
1.8
38.5
1683
RS/K23-2Y(L)HBH-84P1
84
-
1.0
2.0
46.5
2340
RS/K23-2Y(L)HBH-112P1
112
-
1.0
2.0
51.5
2944
1.2mm Conductor, 2.0mm Insulated Wire (12/10)
RS/K23-2Y(L)HBH-1P1.2
1
-
1.0
1.2
14.0
188
RS/K23-2Y(L)HBH-2P1.2
2
-
1.0
1.2
14.5
230
RS/K23-2Y(L)HBH-4P1.2
4
-
1.0
1.4
20.0
357
RS/K23-2Y(L)HBH-8P1.2
8
-
1.0
1.4
24.0
509
RS/K23-2Y(L)HBH-14P1.2
14
-
1.0
1.4
25.0
710
RS/K23-2Y(L)HBH-20P1.2
20
-
1.0
1.6
29.0
950
RS/K23-2Y(L)HBH-28P1.2
28
-
1.0
1.6
31.5
1213