Railway Cables

| | | | | | | |
| --- | --- | --- | --- | --- | --- | --- |
| Railway Signalling & Control Cables | | Railway Telecom Cables | | Railway Power & Control Cables | | FIRERAIL Traction Cables |

EAPSP n×4×0.9/1.3/1.4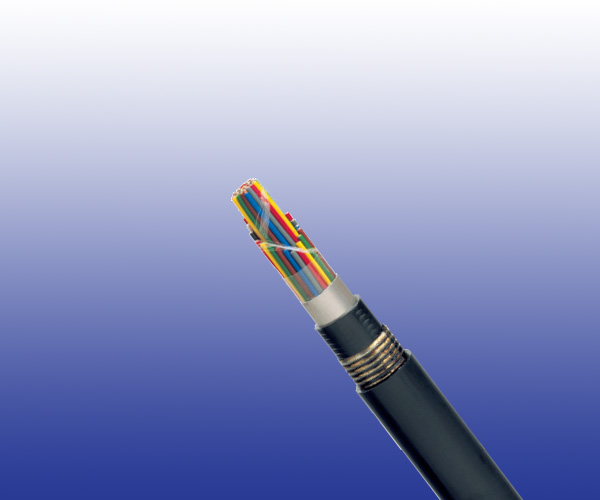 Application
The cables are used as railway cables and can be installed directly into the ground or in ducts.
Standards
RENFE E.T. 03.365.051.6
Construction
Conductors: Soft annealed solid copper, 0.9/1.3/1.4 mm nominal diameter.
Insulation: PE insulation.
Cabling Element: Four insulated conductors are twisted together to form a quad.
Stranding: Star quads are helically stranded in concentric layers.
Core Wrapping: Plastic tape(s) with overlapping.
Moisture Barrier: One laminated sheath made of aluminium tape (0.2mm thick) coated with copolymer on at least
one side is applied with longitudinally overlap.
Inner Sheath: PE sheath.
Armour: One corrugated steel tape is longitudinally applied with overlap.
Outer Sheath: PE sheath.
Optional
Jelly Filled Cables: The cable core interstices are fi lled with petroleum jelly to avoid longitudinal water
penetration within the cable. The water resistant filling compound is applied to the air space between non-
hygroscopic tape and shield, shield and sheath within the cable core.
Electrical Characteristics at 20℃
| | | | | |
| --- | --- | --- | --- | --- |
| Nominal Conductor Diameter | mm | 0.9 | 1.3 | 1.4 |
| Maximum Conductor Resistance | Ω/km | 28.5 | 13.7 | 11.7 |
| Minimum Insulation Resistance @500 V DC | MΩ.km | 25000 | 25000 | 25000 |
| Resistance Unbalance | % | 1 | 1 | 1 |
| Mutual Capacitance @800Hz | nF/km | 41 | 45 | 45 |
| Capacitance Unbalance @800Hz | | | | |
| K1 mean value/individual value | pF/460m | 35/250 | 35/250 | 35/250 |
| K9-12 mean value/individual value | pF/460m | 35/250 | 35/250 | 35/250 |
| ea1/2 mean value/individual value | pF/460m | 320/1200 | 320/1200 | 320/1200 |
| Attenuation @1KHz | dB/km | 0.7 | 0.5 | 0.46 |
| Test Voltage @50Hz 1min | | | | |
| Core to Core | Veff | 2100 | 2100 | 2100 |
| Core to Screen | Veff | 2500 | 2500 | 2500 |
| Core to Armouring | Veff | 2000 | 2000 | 2000 |
Mechanical and Thermal Properties
Minimum Bending Radius: 10×OD
Temperature Range: -30℃ to +70℃ (during operation); -10℃ to +50℃ (during installation)
Dimensions And Weight
EAPSP n×4×0.9/1.3/1.4 Cables
Cable Code
Number of
Quads
(n)
Nominal Sheath Thickness
mm
Maximum Overall
Diameter
mm
Nominal Weight
kg/km
Inner
Outer
0.9mm Conductor, 1.8mm Insulated Wire
RS/EAPSP-2Y(L)2YB2Y-1Q0.9
1
1.3
1.4
15.5
240
RS/EAPSP-2Y(L)2YB2Y-3Q0.9
3
1.3
1.4
19.5
380
RS/EAPSP-2Y(L)2YB2Y-5Q0.9
5
1.3
1.4
22.0
490
RS/EAPSP-2Y(L)2YB2Y-7Q0.9
7
1.3
1.4
24.0
580
RS/EAPSP-2Y(L)2YB2Y-10Q0.9
10
1.3
1.4
27.5
750
RS/EAPSP-2Y(L)2YB2Y-14Q0.9
14
1.4
1.6
30.0
920
1.3mm Conductor, 2.5mm Insulated Wire
RS/EAPSP-2Y(L)2YB2Y-1Q1.3
1
1.3
1.4
16.0
270
RS/EAPSP-2Y(L)2YB2Y-3Q1.3
3
1.3
1.4
20.5
470
RS/EAPSP-2Y(L)2YB2Y-5Q1.3
5
1.4
1.6
26.5
680
RS/EAPSP-2Y(L)2YB2Y-7Q1.3
7
1.4
1.6
27.0
840
RS/EAPSP-2Y(L)2YB2Y-10Q1.3
10
1.4
1.6
30.5
1100
RS/EAPSP-2Y(L)2YB2Y-14Q1.3
14
1.5
1.6
34.0
1400
1.4mm Conductor, 2.6mm Insulated Wire
RS/EAPSP-2Y(L)2YB2Y-1Q1.4
1
1.3
1.4
18.0
330
RS/EAPSP-2Y(L)2YB2Y-3Q1.4
3
1.3
1.4
23.0
560
RS/EAPSP-2Y(L)2YB2Y-5Q1.4
5
1.4
1.6
26.5
770
RS/EAPSP-2Y(L)2YB2Y-7Q17
7
1.4
1.6
29.0
950
RS/EAPSP-2Y(L)2YB2Y-10Q1.4
10
1.4
1.6
34.0
1280
RS/EAPSP-2Y(L)2YB2Y-14Q1.4
14
1.5
1.6
38.0
1650
RS/EAPSP-2Y(L)2YB2Y-19Q1.4
19
1.6
1.8
43.0
2120
EAPSP-R n×4×0.9/1.3 Jelly Filled Cables
Cable Code
Number of
Quads
(n)
Nominal Sheath Thickness
mm
Maximum Overall
Diameter
mm
Nominal Weight
kg/km
Inner
Outer
0.9mm Conductor, 1.8mm Insulated Wire

RS/EAPSP-R-2Y(F)(L)2YB2Y-1Q0.9

1
1.3
1.4
16.5
270

RS/EAPSP-R-2Y(F)(L)2YB2Y-3Q0.9

3
1.3
1.4
22.0
470

RS/EAPSP-R-2Y(F)(L)2YB2Y-5Q0.9

5
1.3
1.4
25.0
630

RS/EAPSP-R-2Y(F)(L)2YB2Y-7Q0.9

7
1.3
1.4
26.7
730

RS/EAPSP-R-2Y(F)(L)2YB2Y-10Q0.9

10
1.3
1.4
31.5
980

RS/EAPSP-R-2Y(F)(L)2YB2Y-12Q0.9

12
1.4
1.6
32.8
1090

RS/EAPSP-R-2Y(F)(L)2YB2Y-14Q0.9

14
1.4
1.6
34.6
1230

RS/EAPSP-R-2Y(F)(L)2YB2Y-19Q0.9

19
1.5
1.6
39.0
1560

RS/EAPSP-R-2Y(F)(L)2YB2Y-25Q0.9

25
1.5
1.6
43.2
1940
1.3mm Conductor, 2.5mm Insulated Wire
RS/EAPSP-R-2Y(F)(L)2YB2Y-1Q1.3
1
1.3
1.4
18.0
360
RS/EAPSP-R-2Y(F)(L)2YB2Y-3Q1.3
3
1.3
1.4
23.0
570
RS/EAPSP-R-2Y(F)(L)2YB2Y-5Q1.3
5
1.4
1.6
29.5
830
RS/EAPSP-R-2Y(F)(L)2YB2Y-7Q1.3
7
1.4
1.6
29.7
980
RS/EAPSP-R-2Y(F)(L)2YB2Y-10Q1.3
10
1.4
1.6
34.5
1330
RS/EAPSP-R-2Y(F)(L)2YB2Y-12Q1.3
12
1.5
1.8
38.0
1580
RS/EAPSP-R-2Y(F)(L)2YB2Y-14Q1.3
14
1.5
1.8
38.6
1710
RS/EAPSP-R-2Y(F)(L)2YB2Y-19Q1.3
19
1.6
2.0
45.5
2260
RS/EAPSP-R-2Y(F)(L)2YB2Y-25Q1.3
25
1.6
2.0
50.5
2840