Railway Cables

| | | | | | | |
| --- | --- | --- | --- | --- | --- | --- |
| Railway Signalling & Control Cables | | Railway Telecom Cables | | Railway Power & Control Cables | | FIRERAIL Traction Cables |

G7622 Trackside Communications Cables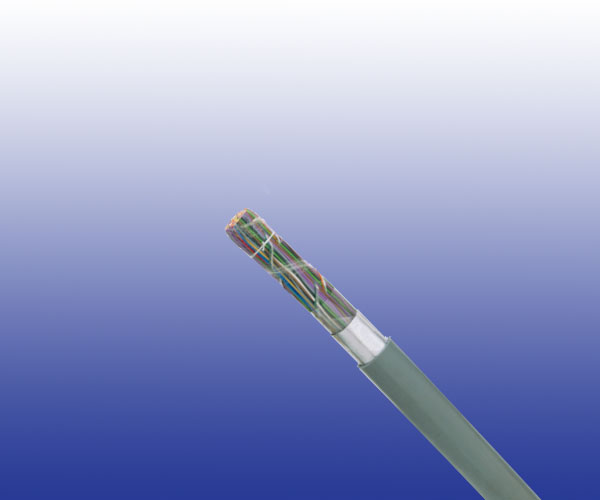 Application
The cables are designed for installation in trackside bracket runs and for use within railway equipment rooms
within open locations (type 1) or in subsurface tunnels and underground locations (type 2).
Standards
LUL Spec G7622 A1 type 1 (for PVC sheath)
LUL Spec G7622 A1 type 2 (for LSZH sheath)
Construction
Conductors
Solid plain copper, 0.63/0.9 mm nominal diameter.
Insulation
Cellular polyethylene.
Cabling Element
Four insulated conductors are twisted together to form a quad.
Stranding
Conductors are helically stranded in concentric layers.
Core Wrapping
Plastic tape (s) with overlapping.
Moisture Barrier
One laminated sheath made of aluminium tape (0.15mm thick) coated with PE-Copolymer on at least one side is
applied with longitudinally overlap.
Outer Sheath
LSZH sheath, coloured violet.
Optional
Type 1 Cables: For type 1 cables, additional foil (at least one polyester tape) and PVC sheath are applied over
the LSZH sheath. (VDE Code: A-02Y(L)HY)
Armoured Cables: Corrugated steel tape armour is applied with an overlap over LSZH sheath. An outer LSZH
sheath is applied over the armour. (VDE Code: A-02Y(L)H(SR)H)
Electrical Characteristics at 20℃
| | | | |
| --- | --- | --- | --- |
| Nominal Conductor Diameter | mm | 0.63 | 0.9 |
| Maximum Conductor Resistance | | | |
| Average Value | Ω/km | 57.5 | 28 |
| Individual Value | Ω/km | 59 | 29 |
| Minimum Insulation Resistance @500 V DC | MΩ.km | 1500 | 1500 |
| Maximum Average Mutual Capacitance | nF/km | 59 | 59 |
| Maximum Average Capacitance Unbalance | | | |
| Between pairs in same quad | pF/460m | 50 | 50 |
| Between pairs (centre or in any layer) | pF/460m | 30 | 30 |
| Between any pairs and earth | pF/460m | 200 | 200 |
| Between phantom and pairs in same quad | pF/460m | 300 | 300 |
Mechanical and Thermal Properties
Minimum Bending Radius: 7.5×OD (unarmoured); 10×OD (armoured)
Temperature Range: -40℃ to +70℃ (during operation); -10℃ to +50℃ (during installation)
Core Identifi cation
Quad colours in centre and even layers
Position of Quad in Layer
Centre and Even Layers
Quad Whipping Colours
A Wire
B Wire
C Wire
D Wire
1st Quad (Marker)
ORANGE
WHITE
BLUE
GREY
WHITE/ORANGE
Even Quads
RED
WHITE
VIOLET
YELLOW
WHITE
Odd Quads
BROWN
WHITE
GREEN
GREY
WHITE
Last Quad
ORANGE
WHITE
RED
GREEN
WHITE/ORANGE
Quad colours in odd layers
Position of Quad in Layer
Centre and Even Layers
Quad Whipping Colours
A Wire
B Wire
C Wire
D Wire
1st Quad (Marker)
ORANGE
BLACK
BLUE
GREY
WHITE/ORANGE
Even Quads
RED
BLACK
VIOLET
YELLOW
WHITE
Odd Quads
BROWN
BLACK
GREEN
GREY
WHITE
Last Quad
ORANGE
BLACK
RED
GREEN
WHITE/ORANGE
Make-up of cable
Number of Pairs
Number of Quads in centre and successive layers
Centre
1st Layer
2ndLayer
3th Layer
4th Layer
5th Layer
6th Layer
8
4
-
-
-
-
-
-
14
1
6
-
-
-
-
-
20
2
8
-
-
-
-
-
28
4
10
-
-
-
-
-
38
1
6
12
-
-
-
-
54
3
9
15
-
-
-
-
74
1
6
12
18
-
-
-
104
4
10
16
22
-
-
-
160
4
10
16
22
28
-
-
228
4
10
16
22
28
34
-
308
4
10
16
22
28
34
40
Dimensions And Weight
G7622 A1 Type 2 Cables
Cable Code
No. of pairs
Minimum Sheath
Thickness
mm
Nominal Overall
Diameter
mm
Nominal Weight
kg/km
0.63mm Conductor, 1.0mm Insulated Wire
RS7622A1/T2-02Y(L)H-8P0.63
8
2.5
14.5
190
RS7622A1/T2-02Y(L)H-14P0.63
14
2.5
16.0
240
RS7622A1/T2-02Y(L)H-20P0.63
20
2.5
17.5
310
RS7622A1/T2-02Y(L)H-28P0.63
28
2.5
19.5
380
RS7622A1/T2-02Y(L)H-38P0.63
38
2.5
21.5
470
RS7622A1/T2-02Y(L)H-54P0.63
54
2.5
23.5
610
RS7622A1/T2-02Y(L)H-74P0.63
74
2.5
25.5
780
RS7622A1/T2-02Y(L)H-104P0.63
104
2.5
29.0
1020
RS7622A1/T2-02Y(L)H-160P0.63
160
2.5
34.0
1498
RS7622A1/T2-02Y(L)H-228P0.63
228
2.5
39.0
1993
RS7622A1/T2-02Y(L)H-308P0.63
308
2.5
43.5
2670
0.9mm Conductor, 1.5mm Insulated Wire
RS7622A1/T2-02Y(L)H-8P0.9
8
2.5
17.5
280
RS7622A1/T2-02Y(L)H-14P0.9
14
2.5
20.0
380
RS7622A1/T2-02Y(L)H-20P0.9
20
2.5
22.5
500
RS7622A1/T2-02Y(L)H-28P0.9
28
2.5
24.5
630
RS7622A1/T2-02Y(L)H-38P0.9
38
2.5
25.5
790
RS7622A1/T2-02Y(L)H-54P0.9
54
2.5
29.0
1060
RS7622A1/T2-02Y(L)H-74P0.9
74
2.5
32.5
1370
RS7622A1/T2-02Y(L)H-108P0.9
108
2.5
37.5
1830
G7622 A1 Type 1 Cables
Cable Code
No. of pairs
Minimum Sheath Thickness
mm
Nominal Overall
Diameter
mm
Nominal Weight
kg/km
0.63mm Conductor, 1.0mm Insulated Wire
RS7622A1/T1-02Y(L)HY-8P0.63
8
2.5
3.0
20.5
330
RS7622A1/T1-02Y(L)HY-14P0.63
14
2.5
3.0
22.0
390
RS7622A1/T1-02Y(L)HY-20P0.63
20
2.5
3.0
23.5
480
RS7622A1/T1-02Y(L)HY-28P0.63
28
2.5
3.0
25.5
560
RS7622A1/T1-02Y(L)HY-38P0.63
38
2.5
3.0
27.5
660
RS7622A1/T1-02Y(L)HY-54P0.63
54
2.5
3.0
29.5
830
RS7622A1/T1-02Y(L)HY-74P0.63
74
2.5
3.0
31.5
1010
RS7622A1/T1-02Y(L)HY-104P0.63
104
2.5
3.0
35.0
1290
0.9mm Conductor, 1.5mm Insulated Wire
RS7622A1/T1-02Y(L)HY-8P0.9
8
2.5
3.0
23.5
440
RS7622A1/T1-02Y(L)HY-14P0.9
14
2.5
3.0
26.0
550
RS7622A1/T1-02Y(L)HY-20P0.9
20
2.5
3.0
28.5
700
RS7622A1/T1-02Y(L)HY-28P0.9
28
2.5
3.0
30.5
840
RS7622A1/T1-02Y(L)HY-38P0.9
38
2.5
3.0
31.5
1020
RS7622A1/T1-02Y(L)HY-54P0.9
54
2.5
3.0
35.0
1310
RS7622A1/T1-02Y(L)HY-74P0.9
74
2.5
3.0
38.5
1650
RS7622A1/T1-02Y(L)HY-104P0.9
104
2.5
3.0
43.5
2160
Armoured G7622 A1 Type 2 Cables
Cable Code
No. of pairs
Minimum Sheath Thickness
mm
Nominal Overall
Diameter
mm
Nominal Weight
kg/km
Inner
Outer
0.63mm Conductor, 1.0mm Insulated Wire
RS7622A1/T2-02Y(L)H(SR)H-8P0.63
8
1.2
2.5
18.2
430
RS7622A1/T2-02Y(L)H(SR)H-14P0.63
14
1.2
2.5
19.0
500
RS7622A1/T2-02Y(L)H(SR)H-20P0.63
20
1.2
2.5
21.2
600
RS7622A1/T2-02Y(L)H(SR)H-28P0.63
28
1.2
2.5
22.6
690
RS7622A1/T2-02Y(L)H(SR)H-38P0.63
38
1.2
2.5
24.2
810
RS7622A1/T2-02Y(L)H(SR)H-54P0.63
54
1.2
2.5
26.7
980
RS7622A1/T2-02Y(L)H(SR)H-74P0.63
74
1.2
2.5
29.2
1190
RS7622A1/T2-02Y(L)H(SR)H-104P0.63
104
1.2
2.5
32.6
1480