Railway Cables

| | | | | | | |
| --- | --- | --- | --- | --- | --- | --- |
| Railway Signalling & Control Cables | | Railway Telecom Cables | | Railway Power & Control Cables | | FIRERAIL Traction Cables |

Point Heating Cables to NR/SP/ELP/40045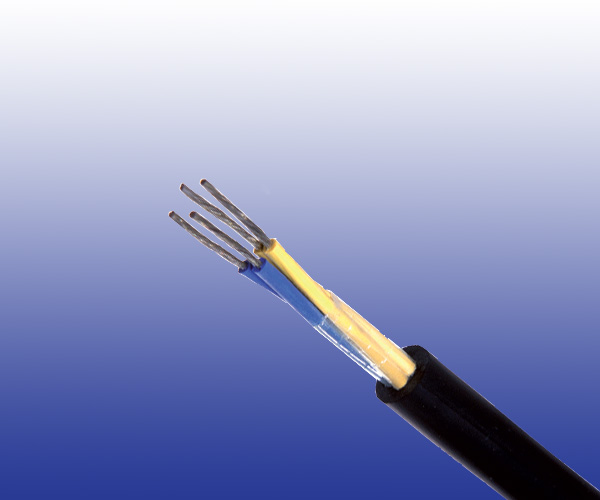 Application
The cables are designed for power distribution in points heating system. These heavy duty cables offer protection from abrasion and mechanical impact whilst maintaining fl exibility to ease installation.
Standards
NR/SP/ELP/40045 (formerly RT/E/PS/40045)
BS 7919
UNE 21027
Construction
Conductors
Class 5 tinned copper conductors to BS 6360.
Insulation
EPR type GP4 to BS 7655.
Sheath
PCP type EM2 to BS 7655.
Electrical Characteristics at 20℃
Nominal Conductor Cross Section
mm²
1.5
2.5
4.0
6.0
Maximum DC Conductor Resistance
Ω/km
13.7
8.21
5.09
3.39
Voltage Rating
KV
0.3/0.5
Mechanical and Thermal Properties
Minimum Bending Radius: 7.5×OD
Temperature Range:-30℃ to +70℃ (during operation); -10℃ +55℃ (during installation)
Core Identification
4cores: yellow, yellow, blue, blue
8cores: yellow, yellow, blue, blue, Brown, brown, black, black
Dimensions And Weight
Cable Code
No. of cores& Nominal
Conductor Cross
Sectional Area
No.×mm²
No. & Nominal
Diameter of
Strands
No/mm
Nominal
Thickness of
Insulation
mm
Nominal
Overall
Diameter
mm
Nominal
Weight
kg/km
RF40045-H05RNF-300/500V-4G1.5
4×1.5
30/0.25
0.8
14.3
220
RF40045-H05RNF-300/500V-4G2.5
4×2.5
50/0.25
0.9
16.5
390
RF40045-H05RNF-300/500V-4G4
4×4.0
56/0.30
1.0
18.5
420
RF40045-H05RNF-300/500V-8G1.5
8×1.5
30/0.25
0.8
18.5
460
RF40045-H05RNF-300/500V-8G2.5
8×2.5
50/0.25
0.9
21.4
510
RF40045-H05RNF-300/500V-8G4
8×4.0
56/0.25
1.0
23.6
830
RF40045-H05RNF-300/500V-8G6
8×6.0
84/0.30
1.0
25.6
1040
RF40045-H05RNF-300/500V-8G10
8×10.0
75/0.40
1.2
31.7
1799
RF40045-H05RNF-300/500V-8G16
8×16.0
118/0.40
1.2
36.2
2480