Railway Cables

| | | | | | | |
| --- | --- | --- | --- | --- | --- | --- |
| Railway Signalling & Control Cables | | Railway Telecom Cables | | Railway Power & Control Cables | | FIRERAIL Traction Cables |

0.6/1KV Limited Fire Hazard/Fire Survival Multicore
Armoured Cables to EME-SP-14-027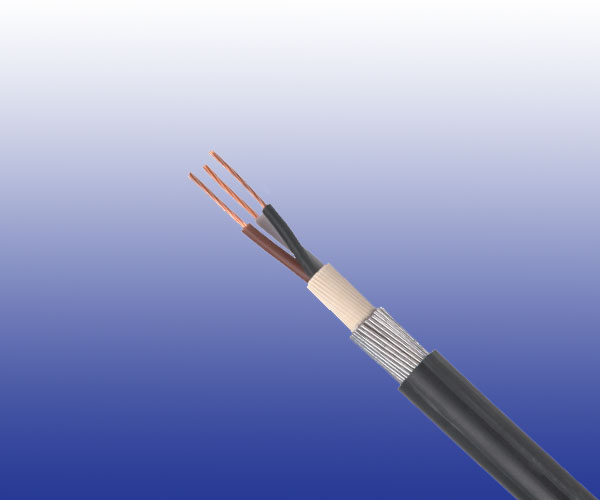 Application
The cables are designed for station range installation typically in public help points (PHP), public address (PA),
station announcement platforms (SAP) & CCTV camera power systems. The LSZH cables has been designed to
provide superior flame retardance and circuit integrity if necessary, suitable for installation where fire, smoke
emission and toxi fumes may create a potential threat.
Standards
EME SP 14 027 (LUL version of BS 6724 for fi re retardant version and BS 6387 for fi re resisting version)
UNE 21123
Construction
Conductors
tranded plain copper conductors to IEC 60228 class 2 or 5.
Fire Barrier Tape (optional)
Mica.
Insulation
XLPE insulation.
Bedding
LSZH bedding.
Armoured
SWA.
Outer Sheath
LSZH Sheath.
Electrical Characteristics at 20℃
Nominal Conductor Cross Section
mm²
2.5
4.0
6.0
10.0
16.0
25.0
35.0
50.0
Maximum DC Conductor Resistance
Ω/km
7.41
4.61
3.08
1.83
1.15
0.727
0.524
0.387
Voltage Rating
KV
0.45/0.75
Nominal Conductor Cross Section
mm²
70.0
95
120
150
185
240
300
Maximum DC Conductor Resistance
Ω/km
0.268
0.193
0.153
0.124
0.0991
0.0754
0.0601
Voltage Rating
KV
0.45/0.75
Mechanical and Thermal Properties
Minimum Bending Radius: 8×OD
Temperature Range: 0℃ to +90℃ (during operation); 0℃ to +70℃ (during installation)
Dimensions And Weight
Cables without fire barrier tape
Cable Code
No. of cores& Nominal
Conductor Cross
Sectional Area
No.×mm²
No. & Nominal
Diameter of
Strands
No/mm
Nominal
Sheath
Thickness
mm
Nominal
Overall
Diameter
mm
Nominal
Weight
kg/km
RF14027-RZ1MZ1-U(AS)-0.6/1KV-2G2.5
2×2.5*
7/0.67
1.4
12.2
323
RF14027-RZ1MZ1-U(AS)-0.6/1KV-2G4
2×4.0*
7/0.85
1.4
13.3
387
RF14027-RZ1MZ1-U(AS)-0.6/1KV-2G6
2×6.0*
7/1.04
1.4
14.4
460
RF14027-RZ1MZ1-U(AS)-0.6/1KV-2G10
2×10.0*
7/1.35
1.5
16.1
611
RF14027-RZ1MZ1-U(AS)-0.6/1KV-2G16
2×16.0*
7/1.70
1.5
18.7
904
RF14027-RZ1MZ1-U(AS)-0.6/1KV-2G25
2×25.0
7/2.14
1.6
21.0
1050
RF14027-RZ1MZ1-U(AS)-0.6/1KV-2G35
2×35.0
19/1.53
1.7
22.0
1450
RF14027-RZ1MZ1-U(AS)-0.6/1KV-2G50
2×50.0
19/1.78
1.8
24.0
1800
RF14027-RZ1MZ1-U(AS)-0.6/1KV-2G70
2×70.0
19/2.14
1.9
27.0
2300
RF14027-RZ1MZ1-U(AS)-0.6/1KV-2G95
2×95.0
37/1.78
2.0
32.0
3250
RF14027-RZ1MZ1-U(AS)-0.6/1KV-2G120
2×120.0
37/2.03
2.1
35.0
3950
RF14027-RZ1MZ1-U(AS)-0.6/1KV-2G150
2×150.0
37/2.25
2.2
38.0
4650
RF14027-RZ1MZ1-U(AS)-0.6/1KV-2G185
2×185.0
37/2.52
2.4
43.0
6050
RF14027-RZ1MZ1-U(AS)-0.6/1KV-2G240
2×240.0
61/2.25
2.5
49.0
7500
RF14027-RZ1MZ1-U(AS)-0.6/1KV-2G300
2×300.0
61/2.52
2.6
54.0
9050
RF14027-RZ1MZ1-U(AS)-0.6/1KV-3G2.5
3×2.5*
7/0.67
1.4
12.1
335
RF14027-RZ1MZ1-U(AS)-0.6/1KV-3G4
3×4.0*
7/0.85
1.4
13.3
430
RF14027-RZ1MZ1-U(AS)-0.6/1KV-3G6
3×6.0*
7/1.04
1.4
14.4
523
RF14027-RZ1MZ1-U(AS)-0.6/1KV-3G10
3×10.0*
7/1.35
1.5
17.0
811
RF14027-RZ1MZ1-U(AS)-0.6/1KV-3G16
3×16.0*
7/1.70
1.6
19.3
1072
RF14027-RZ1MZ1-U(AS)-0.6/1KV-3G25
3×25.0
7/2.14
1.7
24.0
1750
RF14027-RZ1MZ1-U(AS)-0.6/1KV-3G35
3×35.0
19/1.53
1.8
27.0
2000
RF14027-RZ1MZ1-U(AS)-0.6/1KV-3G50
3×50.0
19/1.78
1.8
28.0
2450
RF14027-RZ1MZ1-U(AS)-0.6/1KV-3G70
3×70.0
19/2.14
1.9
32.0
3250
RF14027-RZ1MZ1-U(AS)-0.6/1KV-3G95
3×95.0
37/1.78
2.1
36.0
4500
RF14027-RZ1MZ1-U(AS)-0.6/1KV-3G120
3×120.0
37/2.03
2.2
40.0
5350
RF14027-RZ1MZ1-U(AS)-0.6/1KV-3G150
3×150.0
37/2.25
2.3
44.0
6900
RF14027-RZ1MZ1-U(AS)-0.6/1KV-3G185
3×185.0
37/2.52
2.4
49.0
8200
RF14027-RZ1MZ1-U(AS)-0.6/1KV-3G240
3×240.0
61/2.25
2.6
56.0
10350
RF14027-RZ1MZ1-U(AS)-0.6/1KV-3G300
3×300.0
61/2.52
2.7
62.0
12600
RF14027-RZ1MZ1-U(AS)-0.6/1KV-4G2.5
4×2.5*
7/0.67
1.4
13.6
406
RF14027-RZ1MZ1-U(AS)-0.6/1KV-4G4
4×4.0*
7/0.85
1.4
14.9
505
RF14027-RZ1MZ1-U(AS)-0.6/1KV-4G6
4×6.0*
7/1.04
1.5
17.1
737
RF14027-RZ1MZ1-U(AS)-0.6/1KV-4G10
4×10.0*
7/1.35
1.5
18.9
969
RF14027-RZ1MZ1-U(AS)-0.6/1KV-4G16
4×16.0*
7/1.70
1.6
21.5
1303
RF14027-RZ1MZ1-U(AS)-0.6/1KV-4G25
4×25.0
7/2.14
1.7
27.0
2100
RF14027-RZ1MZ1-U(AS)-0.6/1KV-4G35
4×35.0
19/1.53
1.8
29.0
2450
RF14027-RZ1MZ1-U(AS)-0.6/1KV-4G50
4×50.0
19/1.78
1.9
32.0
3100
RF14027-RZ1MZ1-U(AS)-0.6/1KV-4G70
4×70.0
19/2.14
2.1
37.0
4400
RF14027-RZ1MZ1-U(AS)-0.6/1KV-4G95
4×95.0
37/1.78
2.2
41.0
5650
RF14027-RZ1MZ1-U(AS)-0.6/1KV-4G120
4×120.0
37/2.03
2.3
46.0
7300
RF14027-RZ1MZ1-U(AS)-0.6/1KV-4G150
4×150.0
37/2.25
2.4
51.0
8700
RF14027-RZ1MZ1-U(AS)-0.6/1KV-4G185
4×185.0
37/2.52
2.6
55.0
10450
RF14027-RZ1MZ1-U(AS)-0.6/1KV-4G240
4×240.0
61/2.25
2.7
63.0
13250
RF14027-RZ1MZ1-U(AS)-0.6/1KV-4G300
4×300.0
61/2.52
2.9
68.0
16100
*Circular conductors
U is changed to K if the stranding class is changed from class 2 to class 5
Cables with fire barrier tape
Cable Code
No. of cores& Nominal
Conductor Cross
Sectional Area
No.×mm²
No. & Nominal
Diameter of
Strands
No/mm
Nominal
Sheath
Thickness
mm
Nominal
Overall
Diameter
mm
Nominal
Weight
kg/km
RF14027-RZ1MZ1-U-MICA(AS+)-0.6/1KV-2G2.5
2×2.5
7/0.67
1.4
13.1
352
RF14027-RZ1MZ1-U-MICA(AS+)-0.6/1KV-2G4
2×4.0
7/0.85
1.4
14.1
424
RF14027-RZ1MZ1-U-MICA(AS+)-0.6/1KV-2G6
2×6.0
7/1.04
1.4
15.2
504
RF14027-RZ1MZ1-U-MICA(AS+)-0.6/1KV-2G10
2×10.0
7/1.35
1.5
16.9
620
RF14027-RZ1MZ1-U-MICA(AS+)-0.6/1KV-2G16
2×16.0
7/1.70
1.5
19.5
954
RF14027-RZ1MZ1-U-MICA(AS+)-0.6/1KV-2G25
2×25.0
7/2.14
1.6
25.5
1330
RF14027-RZ1MZ1-U-MICA(AS+)-0.6/1KV-2G35
2×35.0
19/1.53
1.7
29.1
1785
RF14027-RZ1MZ1-U-MICA(AS+)-0.6/1KV-2G50
2×50.0
19/1.78
1.8
32.2
2165
RF14027-RZ1MZ1-U-MICA(AS+)-0.6/1KV-2G70
2×70.0
19/2.14
1.9
28.8
2445
RF14027-RZ1MZ1-U-MICA(AS+)-0.6/1KV-2G95
2×95.0
37/1.78
2.0
33.9
3385
RF14027-RZ1MZ1-U-MICA(AS+)-0.6/1KV-2G120
2×120.0
37/2.03
2.1
37.2
4065
RF14027-RZ1MZ1-U-MICA(AS+)-0.6/1KV-2G150
2×150.0
37/2.25
2.2
39.9
4745
RF14027-RZ1MZ1-U-MICA(AS+)-0.6/1KV-2G185
2×185.0
37/2.52
2.4
45.0
6095
RF14027-RZ1MZ1-U-MICA(AS+)-0.6/1KV-2G240
2×240.0
61/2.25
2.5
50.0
7575
RF14027-RZ1MZ1-U-MICA(AS+)-0.6/1KV-2G300
2×300.0
61/2.52
2.6
55.0
9165
RF14027-RZ1MZ1-U-MICA(AS+)-0.6/1KV-3G2.5
3×2.5
7/0.67
1.4
13.7
392
RF14027-RZ1MZ1-U-MICA(AS+)-0.6/1KV-3G4
3×4.0
7/0.85
1.4
14.8
478
RF14027-RZ1MZ1-U-MICA(AS+)-0.6/1KV-3G6
3×6.0
7/1.04
1.4
16.0
573
RF14027-RZ1MZ1-U-MICA(AS+)-0.6/1KV-3G10
3×10.0
7/1.35
1.5
18.5
868
RF14027-RZ1MZ1-U-MICA(AS+)-0.6/1KV-3G16
3×16.0
7/1.70
1.6
20.8
1136
RF14027-RZ1MZ1-U-MICA(AS+)-0.6/1KV-3G25
3×25.0
7/2.14
1.7
27.6
1865
RF14027-RZ1MZ1-U-MICA(AS+)-0.6/1KV-3G35
3×35.0
19/1.53
1.8
30.9
2235
RF14027-RZ1MZ1-U-MICA(AS+)-0.6/1KV-3G50
3×50.0
19/1.78
1.8
33.9
2735
RF14027-RZ1MZ1-U-MICA(AS+)-0.6/1KV-3G70
3×70.0
19/2.14
1.9
35.7
3355
RF14027-RZ1MZ1-U-MICA(AS+)-0.6/1KV-3G95
3×95.0
37/1.78
2.1
38.2
4580
RF14027-RZ1MZ1-U-MICA(AS+)-0.6/1KV-3G120
3×120.0
37/2.03
2.2
41.6
5505
RF14027-RZ1MZ1-U-MICA(AS+)-0.6/1KV-3G150
3×150.0
37/2.25
2.3
47.0
6950
RF14027-RZ1MZ1-U-MICA(AS+)-0.6/1KV-3G185
3×185.0
37/2.52
2.4
50.5
8295
RF14027-RZ1MZ1-U-MICA(AS+)-0.6/1KV-3G240
3×240.0
61/2.25
2.6
57.2
10455
RF14027-RZ1MZ1-U-MICA(AS+)-0.6/1KV-3G300
3×300.0
61/2.52
2.7
63.2
12660
RF14027-RZ1MZ1-U-MICA(AS+)-0.6/1KV-4G2.5
4×2.5
7/0.67
1.4
14.7
454
RF14027-RZ1MZ1-U-MICA(AS+)-0.6/1KV-4G4
4×4.0
7/0.85
1.4
16.0
556
RF14027-RZ1MZ1-U-MICA(AS+)-0.6/1KV-4G6
4×6.0
7/1.04
1.5
18.2
783
RF14027-RZ1MZ1-U-MICA(AS+)-0.6/1KV-4G10
4×10.0
7/1.35
1.5
20.0
1029
RF14027-RZ1MZ1-U-MICA(AS+)-0.6/1KV-4G16
4×16.0
7/1.70
1.6
22.5
1367
RF14027-RZ1MZ1-U-MICA(AS+)-0.6/1KV-4G25
4×25.0
7/2.14
1.7
29.9
2240
RF14027-RZ1MZ1-U-MICA(AS+)-0.6/1KV-4G35
4×35.0
19/1.53
1.8
33.5
2705
RF14027-RZ1MZ1-U-MICA(AS+)-0.6/1KV-4G50
4×50.0
19/1.78
1.9
37.1
3375
RF14027-RZ1MZ1-U-MICA(AS+)-0.6/1KV-4G70
4×70.0
19/2.14
2.1
39.1
4560
RF14027-RZ1MZ1-U-MICA(AS+)-0.6/1KV-4G95
4×95.0
37/1.78
2.2
43.0
5805
RF14027-RZ1MZ1-U-MICA(AS+)-0.6/1KV-4G120
4×120.0
37/2.03
2.3
48.3
7430
RF14027-RZ1MZ1-U-MICA(AS+)-0.6/1KV-4G150
4×150.0
37/2.25
2.4
52.4
8820
RF14027-RZ1MZ1-U-MICA(AS+)-0.6/1KV-4G185
4×185.0
37/2.52
2.6
56.6
10600
RF14027-RZ1MZ1-U-MICA(AS+)-0.6/1KV-4G240
4×240.0
61/2.25
2.7
64.3
13380
RF14027-RZ1MZ1-U-MICA(AS+)-0.6/1KV-4G300
4×300.0
61/2.52
2.9
70.7
16255
U is changed to K if the stranding class is changed from class 2 to class 5