Railway Cables

| | | | | | | |
| --- | --- | --- | --- | --- | --- | --- |
| Railway Signalling & Control Cables | | Railway Telecom Cables | | Railway Power & Control Cables | | FIRERAIL Traction Cables |

0.6/1KV Multicore Thin Wall Traction Cables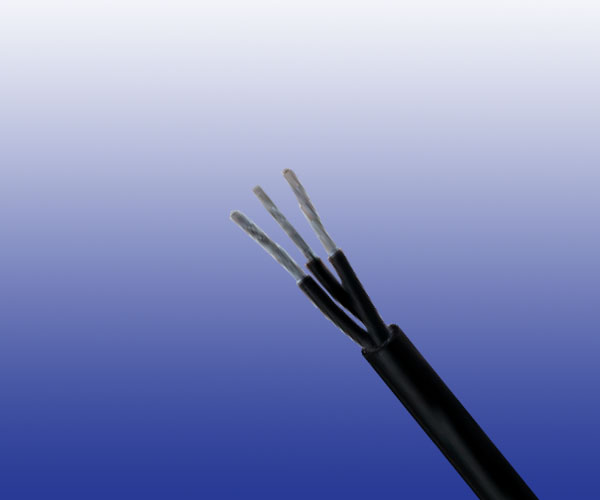 Application
Multicore power and control cable designed for protected, fi xed installation inside and outside railway vehicles for connecting fi xed and moving parts.
Standards
BS 6853 -1a
DIN 5510-1 1-4
NFF 16-101 F0
Construction
Conductors
Circular Class 5 stranded plain or tinned copper to BS EN 60228: 2005 / BS 6360.
Insulation
Electron beam crosslinkable thin wall LSZH compound.
Screen(optional)
Copper Wire Screen (for screened cable).
Outer Sheath
Electron beam crosslinkable LSZH compound.
Optional
FRA-TW-1M-FR (Fire resistant)
Electrical Characteristics at 20℃
Nominal Conductor Cross Section
mm²
0.5
0.75
1.0
1.5
2.5
Maximum Conductor Resistance
Ω/km
40.1
26.7
20.0
13.7
8.21
Voltage Rating
KV
0.6/1.0
Mechanical and Thermal Properties
Minimum Bending Radius:3×OD (OD<12mm); 4×OD (OD>12mm)
Temperature Range:-40℃ to +120℃
Dimensions And Weight
FRA-TW-1M (Multicore unscreened)
Cable Code
No. of cores& Nominal Conductor
Cross Sectional Area
No.×mm²
Nominal Diameter of
Strands
No/mm
Nominal Insulation
Thickness
mm
Nominal Overall
Diameter
mm
Nominal Weight
kg/km
FRA-TW-1M-2C0.5S
2×0.5
19/0.18
0.3
4.4
31
FRA-TW-1M-3C0.5S
3×0.5
19/0.18
0.3
4.6
36
FRA-TW-1M-4C0.5S
4×0.5
19/0.18
0.3
5.0
43
FRA-TW-1M-5C0.5S
5×0.5
19/0.18
0.3
5.5
53
FRA-TW-1M-6C0.5S
6×0.5
19/0.18
0.3
6.0
62
FRA-TW-1M-2P0.5S
2×2×0.5
19/0.18
0.3
6.5
58
FRA-TW-1M-4P0.5S
4×2×0.5
19/0.18
0.3
8.7
99
FRA-TW-1M-2C0.75S
2×0.75
19/0.22
0.3
4.75
35
FRA-TW-1M-3C0.75S
3×0.75
19/0.22
0.3
5.15
47
FRA-TW-1M-4C0.75S
4×0.75
19/0.22
0.3
5.6
57
FRA-TW-1M-6C0.75S
6×0.75
19/0.22
0.3
6.75
83
FRA-TW-1M-2P0.75S
2×2×0.75
19/0.22
0.3
7.75
81
FRA-TW-1M-2C1S
2×1.0
19/0.25
0.3
5.1
45
FRA-TW-1M-3C1S
3×1.0
19/0.25
0.3
5.4
54
FRA-TW-1M-4C1S
4×1.0
19/0.25
0.3
5.8
64
FRA-TW-1M-6C1S
6×1.0
19/0.25
0.3
7.3
98
FRA-TW-1M-10C1S
10×1.0
19/0.25
0.3
8.7
143
FRA-TW-1M-25C1S
25×1.0
19/0.25
0.3
12.8
324
FRA-TW-1M-2C1.5S
2×1.5
19/0.3
0.3
6.0
63
FRA-TW-1M-3C1.5S
3×1.5*
19/0.3
0.3
6.3
76
FRA-TW-1M-4C1.5S
4×1.5
19/0.3
0.3
6.9
94
FRA-TW-1M-5C1.5S
5×1.5*
19/0.3
0.3
7.8
116
FRA-TW-1M-6C1.5S
6×1.5
19/0.3
0.3
8.45
141
FRA-TW-1M-7C1.5S(G/Y)
7G 1.5
19/0.3
0.3
9.1
165
FRA-TW-1M-8C1.5S
8×1.5
19/0.3
0.3
10.3
201
FRA-TW-1M-10C1.5S
10×1.5
19/0.3
0.3
10.6
216
FRA-TW-1M-18C1.5S
18×1.5
19/0.3
0.3
13.4
374
FRA-TW-1M-25C1.5S(G/Y)
25G 1.5
19/0.3
0.3
15.5
494
FRA-TW-1M-2C2.5S
2×2.5
19/0.4
0.4
7.3
98
FRA-TW-1M-3C2.5S
3×2.5*
19/0.4
0.4
7.8
122
FRA-TW-1M-4C2.5S
4×2.5
19/0.4
0.4
8.7
152
FRA-TW-1M-5C2.5S
5×2.5
19/0.4
0.4
9.4
181
FRA-TW-1M-6C2.5S
6×2.5
19/0.4
0.4
10.6
223
*earth cable can be offered as an option
G: earth cable (yellow/green)
FRA-TW-1M-OS (Multicore screened)
Cable Code
No. of cores& Nominal Conductor Cross
Sectional Area
No.×mm²
Nominal Diameter of
Strands
No/mm
Nominal Insulation
Thickness
mm
Nominal Overall
Diameter
mm
Nominal Weight
kg/km
FRA-TW-1M-OS-2C0.5S
2×0.5
19/0.18
0.3
4.8
42
FRA-TW-1M-OS-3C0.5S
3×0.5
19/0.18
0.3
5.3
51
FRA-TW-1M-OS-4C0.5S
5×0.5
19/0.18
0.3
5.4
56
FRA-TW-1M-OS-6C0.5S
6×0.5
19/0.18
0.3
6.5
82
FRA-TW-1M-OS-15C0.5S
15×0.5
19/0.18
0.3
9.0
167
FRA-TW-1M-OS-2P0.5S
2×2×0.5
19/0.18
0.3
7.2
80
FRA-TW-1M-OS-3P0.5S
3×2×0.5
19/0.18
0.3
8.1
98
FRA-TW-1M-OS-4P0.5S
4×2×0.5
19/0.18
0.3
9.3
131
FRA-TW-1M-OS-12P0.5S
12×2×0.5
19/0.18
0.3
13.0
276
FRA-TW-1M-OS-2C0.75S
2×0.75
19/0.22
0.3
5.0
48
FRA-TW-1M-OS-4C0.75S
4×0.75
19/0.22
0.3
6.0
72
FRA-TW-1M-OS-6C0.75S
6×0.75
19/0.22
0.3
7.2
103
FRA-TW-1M-OS-10C0.75S
10×0.75
19/0.22
0.3
8.7
152
FRA-TW-1M-OS-18C0.75S
18×0.75
19/0.22
0.3
11.0
244
FRA-TW-1M-OS-3P0.75S
3×2×0.75
19/0.22
0.3
9.0
127
FRA-TW-1M-OS-2C1S
2×1.0
19/0.25
0.3
5.6
60
FRA-TW-1M-OS-3C1S
3×1.0
19/0.25
0.3
6.0
76
FRA-TW-1M-OS-4C1S
4×1.0
19/0.25
0.3
6.5
88
FRA-TW-1M-OS-6C1S
6×1.0
19/0.25
0.3
7.8
114
FRA-TW-1M-OS-8C1S
8×1.0
19/0.25
0.3
8.9
171
FRA-TW-1M-OS-25C1S
25×1.0
19/0.25
0.3
13.8
392
FRA-TW-1M-OS-2P1S
2×2×1.0
19/0.25
0.3
8.3
117
FRA-TW-1M-OS-2C1.5S
2×1.5
19/0.3
0.3
6.5
86
FRA-TW-1M-OS-3C1.5S
3×1.5
19/0.3
0.3
6.8
95
FRA-TW-1M-OS-4C1.5S
4×1.5
19/0.3
0.3
7.4
118
FRA-TW-1M-OS-6C1.5S
6×1.5
19/0.3
0.3
9.0
168
FRA-TW-1M-OS-18C1.5S
18×1.5
19/0.3
0.3
14.4
452
FRA-TW-1M-OS-2C2.5S
2×2.5
19/0.4
0.4
7.8
122
FRA-TW-1M-OS-4C2.5S
4×2.5
19/0.4
0.4
8.4
152
FRA-TW-1M-OS-6C2.5S
6×2.5
19/0.4
0.4
11.4
268