Railway Cables

| | | | | | | |
| --- | --- | --- | --- | --- | --- | --- |
| Railway Signalling & Control Cables | | Railway Telecom Cables | | Railway Power & Control Cables | | FIRERAIL Traction Cables |

0.6/1KV Multicore Medium Wall Traction Cables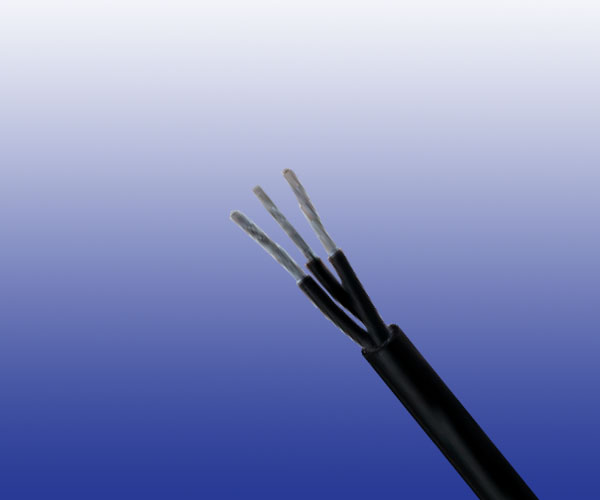 Application
Multicore power and control cable designed for protected, fi xed installation inside and outside railway vehicles for connecting fi xed and moving parts.
Standards
BS 6853 -1a
DIN 5510-1 1-4
NFF 16-101 F0
Construction
Conductors
Circular Class 5 stranded plain or tinned copper to BS EN 60228: 2005 / BS 6360.
Insulation
Electron beam crosslinkable medium wall LSZH compound.
Screening (optional)
Copper Wire Screen(for screened cables).
Outer Sheath
Electron beam crosslinkable LSZH compound.
Optional
FRA-MW-1M-FR (Fire resistant)
Electrical Characteristics at 20℃
Nominal Conductor Cross Section
mm²
0.5
0.75
1.0
1.5
2.5
4.0
6.0
Maximum Conductor Resistance
Ω/km
40.1
26.7
20.0
13.7
8.21
5.09
3.39
Voltage Rating
KV
0.6/1.0
Nominal Conductor Cross Section
mm²
10
16
25
35
50
Maximum Conductor Resistance
Ω/km
1.95
1.24
0.795
0.565
0.393
Voltage Rating
KV
0.6/1.0
Mechanical and Thermal Properties
Minimum Bending Radius:3×OD (OD<12mm); 4×OD (OD>12mm)
Temperature Range:-40℃ to +120℃
Dimensions And Weight
FRA-MW-1M (Multicore unscreened)
Cable Code
No. of cores& Nominal Conductor Cross
Sectional Area
No.×mm²
Nominal Diameter of Strands
No/mm
Nominal Insulation
Thickness
mm
Nominal Overall
Diameter
mm
Nominal Weight
kg/km
FRA-MW-1M-2G0.5
2×0.5
16/0.20
0.6
5.9
48
FRA-MW-1M-4G0.5
4×0.5
16/0.20
0.6
7.0
55
FRA-MW-1M-7G0.5
7×0.5
16/0.20
0.6
9.1
72
FRA-MW-1M-18G0.5
18×0.5
16/0.20
0.6
12.7
86
FRA-MW-1M-3G0.75
3×0.75
24/0.20
0.6
6.8
70
FRA-MW-1M-5G0.75
5×0.75
24/0.20
0.6
8.4
107
FRA-MW-1M-8G0.75
8×0.75
24/0.20
0.6
10.9
147
FRA-MW-1M-12G0.75
12×0.75
24/0.20
0.6
11.9
175
FRA-MW-1M-20G0.75
20×0.75
24/0.20
0.6
15.2
350
FRA-MW-1M-2G1
2×1.0
32/0.20
0.6
6.9
72
FRA-MW-1M-6G1
6×1.0
32/0.20
0.6
10.0
160
FRA-MW-1M-9G1
9×1.0
32/0.20
0.6
12.5
210
FRA-MW-1M-25G1
25×1.0
32/0.20
0.6
18.7
519
FRA-MW-1M-2G1.5
2×1.5
30/0.25
0.7
7.5
86
FRA-MW-1M-3G1.5
3×1.5
30/0.25
0.7
8.0
90
FRA-MW-1M-5G1.5
5×1.5
30/0.25
0.7
10.2
169
FRA-MW-1M-7G1.5(G/Y)
*7G 1.5
30/0.25
0.7
12.1
238
FRA-MW-1M-12G1.5
12×1.5
30/0.25
0.7
14.2
313
FRA-MW-1M-36G1.5
36×1.5
30/0.25
0.7
23
905
*G—yellow/green
FRA-MW-1M-OS (Multicore screened)
Cable Code
No. of cores& Nominal Conductor Cross
Sectional Area
No.×mm²
Nominal Diameter of Strands
No/mm
Nominal Insulation
Thickness
mm
Nominal Overall
Diameter
mm
Nominal Weight
kg/km
FRA-MW-1M-OS-2G0.5
2×0.5
16/0.20
0.6
6.6
68
FRA-MW-1M-OS-4G0.5
4×0.5
16/0.20
0.6
7.5
102
FRA-MW-1M-OS-7G0.5
7×0.5
16/0.20
0.6
9.8
145
FRA-MW-1M-OS-15G0.5
15×0.5
16/0.20
0.6
13.4
240
FRA-MW-1M-OS-9P0.5S
9×2×0.5
16/0.20
0.6
20.6
541
FRA-MW-1M-OS-3G0.75
3×0.75
24/0.20
0.6
7.5
94
FRA-MW-1M-OS-6G0.75
6×0.75
24/0.20
0.6
9.9
165
FRA-MW-1M-OS-9G0.75
9×0.75
24/0.20
0.6
12.3
243
FRA-MW-1M-OS-16G0.75
16×0.75
24/0.20
0.6
14.4
348
FRA-MW-1M-OS-5P0.75S
5×2×0.75
24/0.20
0.6
16.0
354
FRA-MW-1M-OS-4G1
4×1.0
32/0.20
0.6
8.8
140
FRA-MW-1M-OS-7G1
7×1.0
32/0.20
0.6
11.8
226
FRA-MW-1M-OS-3G1.5
3×1.5
32/0.25
0.7
8.6
124
FRA-MW-1M-OS-5G1.5
5×1.5
32/0.25
0.7
10.9
208
FRA-MW-1M-OS-9G1.5
9×1.5
30/0.25
0.7
14.9
409
FRA-MW-1M-OS-16G1.5
16×1.5
30/0.25
0.7
17.5
560
FRA-MW-1M-OS-6P1.5S
6×2×1.5
30/0.25
0.7
18.9
540
FRA-MW-1M-OS-2G2.5
2×2.5
50/0.25
0.7
9.6
160
FRA-MW-1M-OS-4G2.5
4×2.5
50/0.25
0.7
11.3
222
FRA-MW-1M-OS-7G2.5
7×2.5
50/0.25
0.7
14.8
400
FRA-MW-1M-OS-3G4
3×4
56/0.30
0.7
11.8
260
FRA-MW-1M-OS-5G4
5×4
56/0.30
0.7
14.7
440
FRA-MW-1M-OS-3G6
3×6
84/0.30
0.7
13.8
370
FRA-MW-1M-OS-5G6
5×6
84/0.30
0.7
17.4
620
FRA-MW-1M-OS-3G10
3×10
80/0.40
0.7
17.1
580
FRA-MW-1M-OS-4G10
4×10
80/0.40
0.7
19.2
750
FRA-MW-1M-OS-5G10
5×10
80/0.40
0.7
21.1
850
FRA-MW-1M-OS-3G16
3×16
126/0.40
0.7
20.5
820
FRA-MW-1M-OS-2G25
2×25
196/0.40
0.9
22.9
990
FRA-MW-1M-OS-3G35
3×35
276/0.40
0.9
27.9
1600
FRA-MW-1M-OS-6G35
6×35
276/0.40
0.9
39.7
3390
FRA-MW-1M-OS-2G50
2×50
396/0.40
1.0
29.8
1760