Mining Cable
Type SHD-GC Three-Conductor Portable Power Cable, CPE Sheath 25kV
Applications
These heavy duty cables are designed for applications such as longwall shearers, continuous miners and mobile
equipment such as shovels, dredges and drills.
Standards
ICEA S-75-381/NEMA WC 58
ASTM B 172
ASTM B 33
CAN/CSA-C22.2 No.96
Construction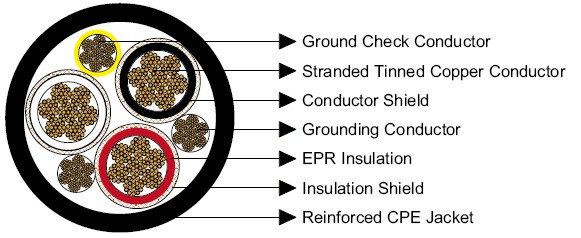 Conductors: Stranded annealed tinned copper conductor.
Conductor Shield:Semi-conducting layer.
Insulation:EPR.
Insulation Shield:Non-conducting tape + Tinned copper/textile braid.
Ground Check Conductor:Tinned copper with a yellow polypropylene insulation.
Grounding Conductor:Tinned copper conductor.
Sheath: Reinforced extra-heavy-duty Chlorinated Polyethylene(CPE), black. Other sheath materials can be
offered upon request.
Options:
Other jacket materials such as CSP/PCP/NBR/PVC are available upon request.
Two-layer jacket with reinforcing fibre between the two layers can be offered as an option.
Mechanical and Thermal Properties
Minimum Bending Radius: 8×OD
Maximum Operating Temperature: +90℃
Dimensions and Weight:
Construction
No. of Strands
Grounding Conductor Size
Ground Check Conductor Size
Nominal Insulation Thickness
Nominal Sheath Thickness
Nominal Sheath Thickness
Nominal Weight
Ampacity
No. of cores×AWG/kcmil
-
AWG/kcmil
AWG/kcmil
inch
mm
inch
mm
inch
mm
lbs/kft
kg/km
A
3×1
259
5
8
0.260
6.6
0.265
6.7
2.95
74.9
5290
7872
191
3×1/0
259
4
8
0.260
6.6
0.265
6.7
3.05
77.5
5800
8631
218
3×2/0
329
3
8
0.260
6.6
0.280
7.1
3.20
81.3
6515
9695
249
3×3/0
413
2
8
0.260
6.6
0.280
7.1
3.33
84.6
7215
10737
286
3×4/0
532
1
8
0.260
6.6
0.295
7.5
3.50
88.9
8250
12277
327
Ampacity-Based on a conductor temperature of 90℃ and an ambient air temperature of 40℃, per ICEA S-75-381