IEC60092 Offshore & Marine Cables

MRE-2XCH 150/250V XLPE Insulated, LSOH (SHF1) Sheathed, Armoured Flame Retardant
Instrumentation & Control Cables (Multicore)
Application
Marine armoured cables are used on board of ships in all locations for fixed installations complying with IEC
standards 60092-352. These cables are flame retardant, low smoke& halogen free, suitable for installations on
passenger ships, as on other commercial vessels.
Standards
IEC 60092-350/351/376/359
IEC 60332-1
IEC 60332-3-22
IEC 60754-1/2
IEC 61034
Construction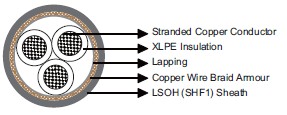 Conductors: Class 2 stranded copper conductor.
Insulation: XLPE.
Inner Covering: Lapping.
Armour: Copper wire braid.
Outer Sheath: LSOH (SHF1). SHF2 can be offered upon request.
Core Identification
White with printed number.
Mechanical and Thermal Properties
Bending Radius for Fixed Installations: 6×OD
Temperature Range: -30℃ ~ +80℃
Dimensions and Weight
Part No.
Construction
No. of cores×Cross section
mm²
Nominal Insulation
Thickness
mm
Nominal Sheath Thickness
mm
Nominal Overall
Diameter
mm
Nominal Weight kg/km
MRE-2XCH-2C0.75
2×0.75
0.5
1.2
7.2
80
MRE-2XCH-3C0.75
3×0.75
0.5
1.2
7.5
90
MRE-2XCH-5C0.75
5×0.75
0.5
1.4
8.9
130
MRE-2XCH-7C0.75
7×0.75
0.5
1.6
9.8
150
MRE-2XCH-12C0.75
12×0.75
0.5
1.7
12.4
230
MRE-2XCH-19C0.75
19×0.75
0.5
1.9
14.6
320
MRE-2XCH-27C0.75
27×0.75
0.5
2.1
17.3
460
MRE-2XCH-37C0.75
37×0.75
0.5
2.2
19.3
590
MRE-2XCH-2C1.0
2×1.0
0.5
1.4
7.9
90
MRE-2XCH-3C1.0
3×1.0
0.5
1.4
8.3
100
MRE-2XCH-5C1.0
5×1.0
0.5
1.5
9.7
150
MRE-2XCH-7C1.0
7×1.0
0.5
1.6
10.4
180
MRE-2XCH-12C1.0
12×1.0
0.5
1.8
13.2
270
MRE-2XCH-19C1.0
19×1.0
0.5
2.1
15.9
420
MRE-2XCH-27C1.0
27×1.0
0.5
2.2
18.4
560
MRE-2XCH-37C1.0
37×1.0
0.5
2.4
20.7
710