Fire Resisting Cable

Fire Resisting Cables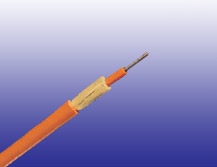 Fire Resistant Optic Fiber Cables
Fire resistant Central Loose Tube Fiber Optic cables
Application
These cables are characterized by light weight and small diameter, suitable for both aerial and duct installation.
They are mainly installed inside buildings, tunnels,subways or closed areas in general, specially designed to
guarantee the signal transmission even in case of fire. The cable can also be used for direct burial for armoured
version.
Standards
Basic design to Telcordia GR-20 / RUS 7 CFR 1755.900 (REA PE-90) / ICEA S 87-640
Fire Performance:
Circuit Integrity
IEC 60331-25; BS 6387 CWZ; DIN VDE 0472-814(FE180);
CEI 20-36/2-1; SS229-1; NBN C 30-004 (cat. F3);
NF C32-070-2.3(CR1)
System circuit integrity
DIN 4102-12, E30 depending on lay system
Flame Retardance (Single Vertical Wire Test)
EN 60332-1-2; IEC 60332-1-2; BS EN 60332-1-2; VDE 0482-332-1 ; NBN C 30-004 (cat. F1); NF C32-070-2.1(C2);
CEI 20-35/1-2; EN 50265-2-1*; DIN VDE 0482-265-2-1*
Reduced Fire Propagation (Vertically-mounted bundled wires & cable test)
EN 60332-3-24 (cat. C); IEC 60332-3-24; BS EN 60332-3-24; VDE 0482-332-3; NBN C 30-004 (cat. F2); NF C32-070-2.2(C1); CEI 20-22/3-4; EN 50266-2-4*; DIN VDE 0482-266-2-4
Halogen Free
IEC 60754-1; EN 50267-2-1; DIN VDE 0482-267-2-1;
CEI 20-37/2-1 ; BS 6425-1*
No Corrosive Gas Emission
IEC 60754-2; EN 50267-2-2; DIN VDE 0482-267-2-2;
CEI 20-37/2-2 ; BS 6425-2*
Minimum Smoke Emission
IEC 61034-1&2; EN 61034 -1&2; DIN VDE 0482-1034-1&2;
CEI 20-37/3-1&2; EN 50268-1&2*; BS 7622-1&2*
No Toxic gases
NES 02-713; NF C 20-454
Note: Asterisk * denotes superseded standard.
Cable Construction:
Fibers: Singlemode and multimode fibers, with loose tube technology.
Structure: Central loose tube cable contains one tube with 2-24 single or multimode fibers, which are filled with
water blocking gel.
Fire barrier: The jelly filled tube with up to 24 fibers is wrapped with a fire blocking mica glass tapes.
Water blocking: The jelly filled tube is waterblocked by using swellable tape and thread.
Reinforcement: Either aramid yarn or fiber glass is wound around the tube to provide physical protection and
tensile strength, with added fire protection.
Inner sheath (optional): The cable can be jacketed with either PE or thermoplastic LSZH inner sheath. PE is the
preferred option in outdoor environment for water protection purpose.
Moisture Barrier Tape (optional): An aluminum moisture tape can be incorporated under the sheath for water
blocking and shielding purpose.
Armouring(optional):
For diect burial, either galvanized steel wire braid, corrugated steel tape armour or galvanized steel wire armour
is applied over an inner polyethylene or LSZH sheath. For steel tape armour, the 0.15mm thick steel tape is
coated with a copolymer and applied with an overlap. For steel wire braid or armour, single layer of galvanized
steel wire braid or armour is applied.
Ripcord (optional): An optional ripcord can be located under the jacket to facilitate jacket removal.
Outer Sheath: Thermoplastic LSZH compound type LTS3 as per BS 7655-6.1(Thermosetting LSZH compound
type SW2-SW4 as per BS 7655-2.6 can be offered.)

Fiber colour code
| | | | | |
| --- | --- | --- | --- | --- |
| Fiber colour code | 1 | Red | 7 | Brown |
| | 2 | Green | 8 | Violet |
| | 3 | Blue | 9 | Turquoise |
| | 4 | Yellow | 10 | Black |
| | 5 | White | 11 | Orange |
| | 6 | Grey | 12 | Pink |
Construction:
Unarmoured type
Construction Parameters:
| | | | | | | |
| --- | --- | --- | --- | --- | --- | --- |
| Cable Code | Fiber Count | Tube Diameter | Nominal Overall Diameter | Approx.Weight | Tension load | Crush |
| | (n°) | mm | mm | kg/km | N | N/100mm |
| CLA-B-C-H-J-FR | 02-06 | 2.7 | 8.0 | 70 | 1000 | 1500 |
| CLA-B-C-H-J-FR | 08-16 | 3.5 | 9.0 | 90 | 1200 | 1500 |
| CLA-B-C-H-J-FR | 18-24 | 4.2 | 10.0 | 100 | 1500 | 1500 |
Steel Wire Braid
Construction Parameters:
| | | | | | | |
| --- | --- | --- | --- | --- | --- | --- |
| Cable Code | Fiber Count | Tube Diameter | Nominal Overall Diameter | Approx.Weight | Tension load | Crush |
| | (n°) | mm | mm | kg/km | N | N/100mm |
| CLA-B-C-2Y(SWB)H-J-FR | 02-06 | 2.7 | 11.5 | 160 | 1000 | 2000 |
| CLA-B-C-2Y(SWB)H-J-FR | 08-16 | 3.5 | 12.0 | 180 | 1200 | 2000 |
| CLA-B-C-2Y(SWB)H-J-FR | 18-24 | 4.2 | 13.0 | 200 | 1500 | 2000 |
Corrugated Steel Tape Armour
Construction Parameters:
| | | | | | | |
| --- | --- | --- | --- | --- | --- | --- |
| Cable Code | Fiber Count | Tube Diameter | Diameter | Approx.Weight | Tension load | Crush |
| | (n°) | mm | mm | kg/km | N | N/100mm |
| CLA-B-C-2Y(STA)H-J-FR | 02-06 | 2.7 | 13.0 | 200 | 1000 | 2500 |
| CLA-B-C-2Y(STA)H-J-FR | 08-16 | 3.5 | 14.0 | 220 | 1200 | 2500 |
| CLA-B-C-2Y(STA)H-J-FR | 18-24 | 4.2 | 14.5 | 250 | 1500 | 2500 |
Steel Wire armour
Construction Parameters:
| | | | | | | |
| --- | --- | --- | --- | --- | --- | --- |
| Cable Code | Fiber Count | Tube Diameter | Nominal Overall Diameter | Approx.Weight | Tension load | Crush |
| | (n°) | mm | mm | kg/km | N | N/100mm |
| CLA-B-C-2Y(SWA)H-J-FR | 02-12 | 2.7 | 10.5 | 180 | 2500 | 4000 |
| CLA-B-C-2Y(SWA)H-J-FR | 16-24 | 3.5 | 11.0 | 210 | 2500 | 4000 |
Physical And Thermal Properties:
Temperature range during operation (fixed state): -20°C - +60°C
Temperature range during installation (mobile state): 0°C - +50°C
Minimum operation Bending Radius: 10 times the outer diameter for unarmoured cables
20 times the outer diameter for armoured cables
Minimum Installation Bending Radius: 20 times the outer diameter
Mechanical PROPERTIES
| | |
| --- | --- |
| Maximum Compressive Load | 4000N for unarmoured cables 5000N for armoured cables |
| Repeated Impact: | 4.4 N.m (J) |
| Twist (Torsion): | 180×10 times, 125×OD |
| Cyclic Flexing: | 25 cycles for armoured cables; 100 cycles for unarmoured cables. |
| Crush Resistance: | 263N/cm (150lb/in) |
Fiber Compliance
| | |
| --- | --- |
| Temperature Cycling | IEC60794-1-2-F2 |
| Tensile Strength | IEC60794-1-2-E1A |
| Crush | IEC60794-1-2-E3 |
| Impact | IEC60794-1-2-E4 |
| Repeated Bending | IEC60794-1-2-E6 |
| Torsion | IEC60794-1-2-E7 |
| Kink | IEC60794-1-2-E10 |
| Cable Bend | IEC60794-1-2-E11 |
| Cool Bend | IEC60794-1-2-E11 |