Customized Products

1.5MM2 MICA & LSZH INSULATION SHIELDED SWA VERMIN-PROOF FRPVC FIRE RESISTANT SPEAKER
CABLE
Application:
This cable is used for power limited circuit, remote control, signaling, security systems, communications,
intercom/P.A. systems, sound/audio, and nurse call.
Construction:
Armoured Type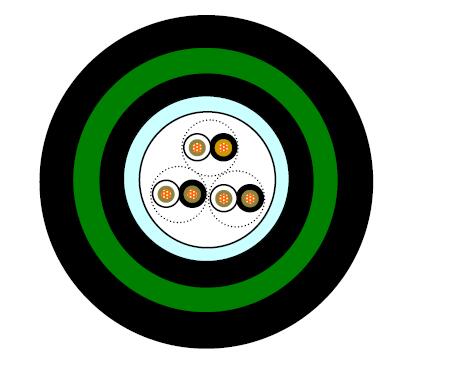 Conductor:1.5mm2 Annealed copper wire conductors class 2.
Insulation:Mica tape and LSZH insulation
Collective screen: Aluminium/p.e.t.p. laminated tape applied with the metallic side down in electrical contact with
a 0.5mm 2 tinned copper drain wire over the p.e.t.p. binder tape.
Bedding: FRPVC compound.
Armour: Steel wire armour
Sheathing:Vermin-proof FRPVC
Packing: The cables are delivered on non-returnable wood drums.
Standard:
IEC60332 & IEC60331
Marking: The cable is marked with white or other colors as follows:
Type and size of cable
Manufacturing date
Meter Marking
The meter mark is printed every meter with an accuracy of 0.5%.
Other printing are available according to customer request.
Table 1. Technical Data
Number of Pairs

Conductor Size
(mm2)

Dia.of steel wire armour
(mm)

Nominal OD (mm)

3

1.5

1.25

25
The data included in the present catalogue are merely indicative; Caledonian Cables Limited reserves to itself the right to change them as its own discretion in any time.