Customized Products

450℉/232℃ EPDM/LEAD Flat Electrical Submersible Pump Cable
Application
These cables are designed for transmitting power to the submersible motor in the oil industry, suitable for
installed down well in the oil industry.
Standard
IEEE Std. 1018 API RP 11S5 API RP 11S6
Construction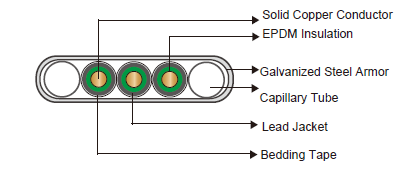 Conductor: Solid bare copper conductor.
Insulation: EPDM insulation with a poly adhesive layer to the conductor.
Jacket: Lead jacket.
Tape: Overlapped fiber cloth bedding tape.
Armor: Galvanized steel tape.
Capillary Tube: SS 316.
Dimensions and Weight
5KV
Cable Type

Conductor
Size

Conductor
O.D.

Insulation
Thickness

Overall O.D.

Weight

AWG

mm²

mm

Inches

mm

Inches

mm

kg/km

QYEQC-232-5KV-3G2

2

33.62

6.54±0.07

0.07

1.9

0.63 x 2.40

16.0 x 61.0

3820

QYEQC-232-5KV-3G4

4

21.15

5.19±0.05

0.07

1.9

0.57 x 2.24

14.5 x 57.0

3240
Electrical Data
| | | |
| --- | --- | --- |
| Voltage | KV AC | 5 |
| Minimum Insulation Resistance (15.6℃) | MΩ·km | 2AWG-1294; 4AWG-1548 |
| Maximum DC Current Unbalance | % | 2 |
| Maximum DC Leakage (15.6℃) | μA/(KV·km) | 2AWG-0.77; 4AWG-0.65 |
| Maximum DC Conductor Resistant | Ω/km | 2AWG-0.522; 4AWG-0.83 |
| DC 35kV/5min | | No breakdown |
Mechanical Data
| | | |
| --- | --- | --- |
| Temperature Rated | ℃ | 232 |
| Minimum Bending Radius | mm | 2AWG-320; 4AWG-280 |