Customized Products

Fire Resistant Speaker Cables
Application
Preferably used for installation into conduit and surface wiring which provide flame retardant, low smoke &
corrosive gases properties and maintain circuit integrity in case of fire.
Construction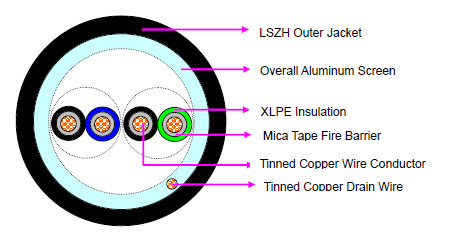 Conductor: Class 2 stranded tinned copper wire
Insulation: Cross-linked polyethylene (XLPE)
Twisting: Two insulated conductors uniformly twisted together to form a pair.
Pair Identification:
1) Black/Blue; 2) Black/Green; 3) Blue/Green; 4) Black/Brown; 5) Blue/Brown; 6) Green/Brown
7) Black/White; 8) Blue/White 9) Green/White; 10) Brown/White
Overall Collective Screen:
Aluminum/polyester tape applied with the metallic side down in electrical contact with a 0.5mm² tinned copper
drain wire. A 23 micron isolation tape is applied over the screening tape with a minimum 50% overlap.
Jacket: Low smoke & halogen free compound (LSZH)
Jacket Color: Black
Packing: Delivered on non-returnable wooden drums.
Physical Characteristics
Voltage Rating: 300/500V
Temperature Rating: During Operation: -40°C to +90°C
During Installation: 0°C to +50°C
Minimum Bending Radius: 6 x overall diameter
Fire Performance
Flame Retardant: IEC 60332 part 1 and part 3
Fire Resistant: IEC60331, BS6387 CWZ
Low Smoke Emission: IEC 61034
Zero Halogen Gas Emission: IEC 60754
Oxygen Index: ≥35%
Technical Data
| | | | | | |
| --- | --- | --- | --- | --- | --- |
| No. of Pair | Size of Conductor | Conductor Stranding | Insulation Thickness | Sheath Thickness | Overall Diameter |
| No. | mm2 | No./mm | mm | mm | mm |
| 2 | 1.00 | 32/0.20 | 0.60 | 0.80 | 11.00 |
| 2 | 2.50 | 50/0.25 | 0.80 | 1.10 | 17.00 |
| 2 | 4.00 | 56/0.30 | 0.80 | 1.20 | 19.00 |
| 10 | 2.50 | 50/0.25 | 0.80 | 1.50 | 34.00 |
| 10 | 4.00 | 56/0.30 | 0.80 | 1.80 | 39.50 |