Customized Products

Fire Resistant CAT6A SWB Armoured Data Cables
Fire Resisting S/FTP Cat6A Cable to IEC 60331-23
part no. FFX-CAT6S/FTP4P23FR SWB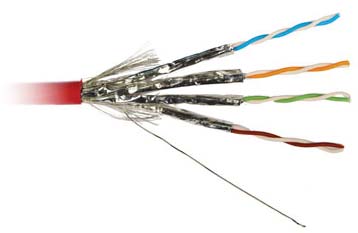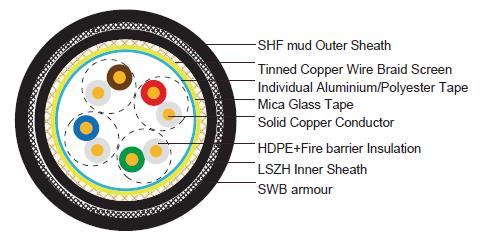 Application:
Cat6 Cable is a cable standard for Gigabit Ethernet and other network protocol, suitable for 10BaseT,
100BaseTx & 1000BaseT (Gigabit Ethernet) application. In addition, these cables can be offered with copper
wire braid armoured & fame retardant outer sheath, providing additional mechanically protection still
maintaining the fexibility of the cable.
STANDARDS:
Basic design adapted to EN 50173
FIRE PERFORMANCE
| | |
| --- | --- |
| Circuit Integrity | IEC 60331-23; BS 6387 CWZ (Optional) |
| Flame Retardance (Single vertical wire or cable test) | IEC 60332-1-2; EN 60332-1-2 |
| Reduced Fire Propagation (Vertically-mounted bundled wires & cables test) | IEC 60332-3-24; EN 60332-3-24 |
| Halogen Free | IEC 60754-1; EN 50267-2-1 |
| No Corrosive Gas Emission | IEC 60754-2; EN 50267-2-2 |
| Minimum Smoke Emission | IEC 61034-2; EN 61034-2 |
CABLE CONSTRUCTION
Conductors: 23AWG solid bare copper.
Insulation: HDPE+fire barrier insulation.
Twinning: Two coloured insulated conductors twisted together to form a pair.
Individual Shield: Every pair is separately shielded with polyester aluminum foil, which covers> 100% of twisted
pair, tinned copper drain wire is outside the Aluminum side contact with the braiding.
Fire Barrier tape: Mica glass tape applied over each pair. Overall Shield: Tinned copper braiding, min. 60%
coverage. Inner Sheath: Thermoplastic LSZH compound, coloured black. Armouring: Steel wire braiding.
Outer Sheath: SHF mud. Halogen-free fame retardant thermosetting LSZH compound type LTS3 as per BS 7655-
6.1, which is UV resistance, oil resistance, mud resistance.
PHYSICAL AND THERMAL PROPERTIES
Temperature range: -30°C - +75°C
Minimum bending radius during installation (mobile state): 8 x Overall Diameter
Minimum bending radius during operation (ixed state): 4 x Overall Diameter
ELECTRICAL PROPERTIES
| | | |
| --- | --- | --- |
| AWG | | 23 |
| Nominal Conductor Diameter | mm | 0.58 |
| Maximum DC Resistance@20°C | O/100m | 9.38 |
| Maximum DCR Unbalance | % | 3 |
| Maximum Mutual Capacitance | pF/m | 5.8 |
| Maximum Capacitance Unbalance | pF/100m | 30 |
| Characteristic Impedance@1-100MHz | O | 100±15 |
| Maximum Propagation Delay Skew | ns/100m | 18 |
TRANSMISSION PROPERTIES
FREQ
MHz

Attenuation dB/100m

NEXT
dB

PSNEXT
dB

ELFEXT
dB/100m

PSELFEXT
dB/100m

RL
dB

0.772

1.8

76.0

74.0

70.0

67.0

—

1

2.0

74.3

72.3

67.8

64.8

20.0

4

3.8

65.3

63.3

55.7

52.7

23.0

8

5.3

60.8

58.8

49.7

46.7

24.5

10

6.0

59.3

57.3

47.8

44.8

25.0

16

7.6

56.3

54.3

43.7

40.7

25.0

20

8.5

54.8

52.8

41.7

38.7

25.0

25

9.5

53.3

51.3

39.8

36.8

24.3

31.25

10.7

51.9

49.9

37.9

34.9

23.6

62.5

15.4

47.4

45.4

31.8

28.8

21.5

100

19.8

44.3

42.3

27.8

24.8

20.1

155

25.2

41.5

39.5

23.9

20.9

18.8

200

29.0

39.8

37.8

21.7

18.7

18.0

250

32.8

38.3

36.3

19.8

16.8

17.3
CONSTRUCTION PARAMETERS
Cable Code

Construction
No. of Elements×No. of Cores in Element×Conductor Diameter

Nominal Insulation Thickness

Nominal Inner Sheath Thickness

Nominal Outer Sheath Thickness

Approx. Overall Diameter

Nominal Weight

mm

mm

mm

mm

mm

kg/km

FFX-CAT6S/FTP4P23FR SWB

4×2×0.58

0.45

0.9

1.1

20.0

530