Bus Cables

Bus Cables
Profibus DP IEC 61158 / EN 50170 SINEC L2(Siemens Profibus)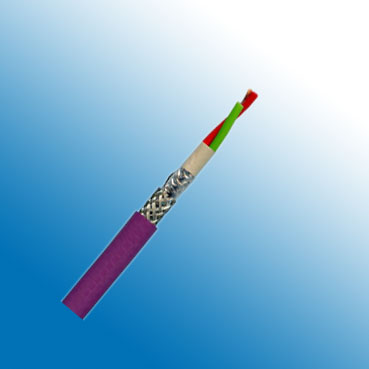 Application:
Profibus DP cables are designed for field networks requiring fast, cyclic data exchange between controllers and
field devices. This cable is usually reffered as siemens profibus. This Profibus modification optimized with respect
to velocity and low installation cost, Profibus DP is used as a replacement for conventional parallel data
transmission with 24 V or 0 - 20 mA.
Static cables

Construction:
Type :Static cables
Inner Conductor:Plain copper
Inner Conductor Diameter:0.64mm (22AWG)
Conductor Insulation:Foam with a hard skin
Conductor Colors:Red & green
Stranding Element:-
Shielding 1:Synthetic bedding
Shielding 2:Aluminium foil
Shielding 3:Tinned copper wire braid – 60% optical coverage
Outer Jacket Material:PUR thermoplastic or thermosetting/ PVC/ PE/ LSHF
Outer Jacket Color:Violet/ Black
Electrical Data:
Characteristic Impedance @ 3-20MHz
150 Ω ± 10 Ω
Conductor Resistance
57.1 Ohm/km max.
Test Voltage
1.5KV
Operate Voltage
Max: 350V
Effective capacitance @ 1khz
28.5nF/km
Data Rate
9.6 Kbit/s
1200m
19.2 Kbit/s
1200m
93.75 Kbit/s
1200m
187.5 Kbit/s
1000m
500 Kbit/s
400m
1.5 Mbit/s
200m
12.0 Mbit/s
100m
Attenuation:
4MHz
22dB/km
9.6KHz
2.5dB/km
16MHz
42dB/km
Dynamic cables

Construction:
Type :Dynamic cables
Inner Conductor:Plain copper, 0.25mm²
Conductor Insulation:Foamed PE with a hard skin
Conductor Colors:Red & green
Stranding Element:Cores laid up with fillers
Core Wrapping :Polyester taped
Shielding 1:Aluminium foil
Shielding 2:Tinned copper wire braid – 60% optical coverage
Drain Wire:-
Outer Jacket Material:Polyurethane (PUR) sheath
Outer Jacket Color:Violet/ Black
Electrical Data:
Characteristic Impedance @ 3-20MHz
150 Ω ± 10 Ω
Conductor Resistance
84.0 Ohm/km max.
Test Voltage
1.5KV
Working Voltage
Max: 350V
Effective capacitance @ 1khz
28.5nF/km
Data Rate
9.6 Kbit/s
1200m
19.2 Kbit/s
1200m
93.75 Kbit/s
1200m
187.5 Kbit/s
1000m
500 Kbit/s
400m
1.5 Mbit/s
200m
12.0 Mbit/s
100m
Attenuation
4MHz
25dB/km
9.6kHz
3dB/km
16MHz
53dB/km
Technical Data:
| | | |
| --- | --- | --- |
| | Static | Dynamic |
| Min. Bending Radius (Laying) | 12 x OD mm | 12 x OD mm |
| Operating Temp.Range, min. | -30 °C | -5 °C |
| Operating Temp.Range, max. | +70 °C | +70 °C |